Save Your Spot for Admissions Open House at Riverside School on Feb. 14
Wednesday, January 2nd, 2019
Learning to read should be as easy as ABC.
For one out of five children, it's not. If you or someone you know has a student who is struggling to read and that you think may have a language-based learning difference, join us to learn more about Riverside School and our programs at Admissions Open House on Feb. 14 from 9-11 a.m.: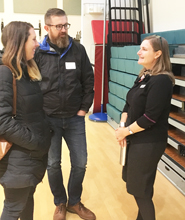 • Ask questions and talk with current students, as well as parents
• Learn more about our programs and the Orton-Gillingham Approach
• Speak with our teaching faculty, instructors, and administrators
• Learn about the application process
• Tour our expanded campus
Riverside is a school where students with dyslexia and other language-based learning differences thrive thanks to small class sizes that allow teachers to focus on the individual needs of each student. Faculty is trained in the Orton-Gillingham Approach, the cornerstone of Riverside's teaching philosophy. Our program provides academic challenge while also fostering student confidence.