Save Your Spot for Admissions Open House Events at Riverside School on Oct. 26 (in-person) and Nov. 11 (via Zoom)
Thursday, October 15th, 2020
Riverside School, Virginia's most trusted school for students with dyslexia in grades K-8, will be hosting its fall Admissions Open House sessions on Oct. 26 and Nov. 11 from 9-11 a.m.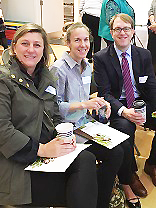 Please note: The Open House on Oct. 26 will be in-person at Riverside School, while the event on Nov. 11 will be conducted via Zoom / virtual meeting technology. This event is for parents interested in gathering information about what Riverside School offers in creating an ideal setting for children with dyslexia and other language-based learning differences.
Riverside is an independent, private day school where students with dyslexia and other language-based learning differences thrive thanks to small class sizes that allow faculty and instructors to focus on the individual needs of each student. Teachers are trained in the Orton-Gillingham Approach, the cornerstone of Riverside's teaching philosophy. Riverside's instructional and student setting provides academic challenge while also fostering student confidence.
Join us to learn about our one-on-one instruction, small class sizes and how the school changes the lives of students and families.
• – Talk with current staff, students, and Riverside parents
• – Learn more about our programs and the Orton-Gilllingham Approach
• – Speak with our teaching faculty, instructors, and administrators
• – Learn more about the application process
• – Receive details about our current procedures and future plans for a Covid-safe Riverside School
Please RSVP using the form below or call (804) 320-3465.