Alumni Spotlight: From 'Law & Order' to Businesswoman, Riverside Alumna Eliza Bullock Buoyed By Her Time at Riverside
Tuesday, December 3rd, 2019
by Andrew Blair
Counted among Riverside alumna Eliza Bullock's journeys are stops at some of the nation's finest schools, time in Hollywood as an actress and work at two of the most profitable companies in the United States.
Trace her transformative paths and, by her own admission, the trail of successes point back to Riverside. After her handwriting and related dysgraphia issues raised concerns at an early age, her parents, Betsy and Dr. Paul Bullock, had their daughter tested, ultimately leading to Eliza enrolling at Riverside.
Eliza attended Riverside for four years before moving on in 1996 and later graduating from Collegiate School. Today, Eliza admits her time at Riverside, complete with individualized, Language Fundamentals instruction, was incalculably valuable, and that her dyslexia has been a facilitator rather than a barrier to growth on a number of different levels.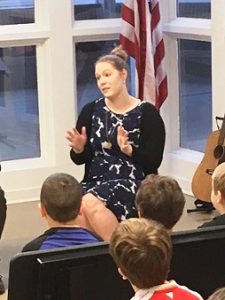 "I think my dyslexia is a real gift," Eliza says. A longtime member of Riverside's Communications and Marketing Committee, she begins her first year on the school's Board of Trustees during the start of the 2019 academic year. "One of the skills that I really was able to learn at Riverside was understanding how I learned and being able to communicate that to others—and then being able to teach myself things when I wasn't in an environment where I was able to learn the way that I needed to."
She later graduated from Wake Forest, grabbing both a diploma and a sense of self-reliance and increased confidence, rather than one of entitlement, a trait that Eliza relied upon throughout her time at Riverside, in college and during her career.
"Being dyslexic has probably made me a little bit more tenacious," she points out. "I have two brothers who don't have dyslexia, and we have a healthy sense of competition with each other. Often times, when I was growing up, people would say, 'Oh, well, you have dyslexia. Maybe you won't be as successful as your brothers.' I'd say, 'I know them and I am just as smart as they are.' That competitive spirit and faith in my own abilities continue to be great motivators that have propelled me forward in my professional career."
As a student at Riverside, Eliza learned that tying dyslexia to one's intelligence level is the equivalent of intellectual folly, a fact continually hammered home by her instructors.
"Coming to Riverside and being in an environment that is so incredibly supportive reiterated the fact that you can do anything you put your mind to and that people with dyslexia are just as smart and talented as people without dyslexia," Eliza says.
That same can-do, creative attitude and work ethic were in play when she worked for CBS out of college, handling logistics for shows such as 'The Price is Right,' 'The Late Late Show' and assisting in the Office of the President. She did the kind of things that no one sees but everyone notices if things go haywire. She also got some screen time, appearing on 'Law & Order' in an episode called 'The Drowned and the Saved.'
Craving the opportunity to use her imagination and resourcefulness on a more regular basis, Eliza moved back to Richmond, worked for The Martin Agency supporting its creative arm and, while there, went back to school and got her master's degree from Virginia Commonwealth University in Global Marketing Management. She landed at Capital One in early 2016, quickly rose up the ranks and today, Eliza is the company's Talent Acquisition Marketing Strategist. If there was a glass ceiling, Eliza shattered it into pieces long ago.
In finding and developing branding strategies in her role, Eliza admittedly relies on processing research-oriented, analytics-based information—no rudimentary task for someone who deals with dyslexia. She has embraced the challenge. Additionally, as companies rely increasingly on digital marketing, e-commerce and electronic communications, Eliza is squarely on the playing field in her role at Capital One.
When it comes to providing options to a client, one of Eliza's strengths is being able to look at issues from a variety of different angles—a strength of dyslexics—to arrive at the best solution and an optimum win-win.
"I think that dyslexics have a lot of empathy, a desire to understand and are able to put themselves in someone else's shoes, which are super-important skills to be a successful marketer," she notes. "I think that it is because of my dyslexia that I am able to be successful in my current role."
Author Andrew Blair is communications and marketing coordinator at Riverside School.