Buy Your Harvest Moon Tickets Today––Limited Space Available!
Monday, October 7th, 2019
NORTH CHESTERFIELD, Va. –– Riverside School's annual Harvest Moon Social is set for Friday, Oct. 18 from 7-10 p.m. and tickets can be purchased here (https://riversideschool.org/support/harvest-moon-2019/) or by clicking on the poster below.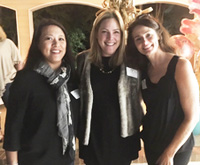 Tickets may also be purchased by sending in a check payable to Riverside School for $40 per ticket, $30 per wine pull ticket and $10 per set of beads for the heads or tails contest, noting 'Harvest Moon' on the memo line. You can also purchase additional wine pull tickets and sets of beads for the heads or tails contest at the event.
As with previous years, the evening is sure to be full of fun and fellowship with food, beer and wine, live music from the 'Riverside Ramblers,' as well as a silent / live auction complete with great items to bid on—all to help ensure that Riverside remains vibrant and strong moving forward!