Educator Dorothy Suskind, Ph.D. to Speak at Riverside School's Moving On Ceremony
Tuesday, May 21st, 2019
NORTH CHESTERFIELD, Va. –– Riverside School, Virginia's most trusted school for dyslexic students in grades kindergarten through eighth grade, has announced that longtime educator Dorothy Suskind will speak at the school's Moving-On ceremony on Thursday, June 6 at 8:30 a.m.
Riverside's Moving-On ceremony signals select kids' departure from Riverside as they prepare to set off to a different public, private or specialty school. Empowering students with dyslexia and other language-based learning differences so they can continue to flourish in a variety of ways is a mission that is at the center of Riverside's purpose.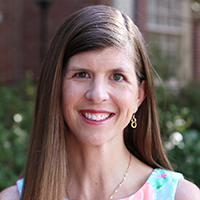 Dr. Suskind is an assistant professor in the Department of Education and Counseling at Longwood University in Farmville, Va., where she is finishing her first year of teaching at the school. Prior to arriving at Longwood, Dr. Suskind served as a middle school principal at Richmond Based St. Catherine's School (2016-18) and a first / fifth grade teacher and Action Research Coach at central Virginia's St. Christopher's School (2008-16) as well as an assistant professor at the University of Mary Washington (2004-08).
Dr. Suskind has also served as a reading specialist and taught multiple grades across the JK-12 spectrum in both public and independent schools, including at Johnson Elementary School in Charlottesville and St. Andrew's School and First Presbyterian Preschool in Richmond.
"It is an honor to be selected to speak at Riverside, a school that has long held the reputation of having a transformational impact on students' lives," said Dr. Suskind. "I believe these visits represent an extension of the classroom and hope to reinforce some of the messages the school's students have been taught and gleaned throughout their time at Riverside."
All told, Dr. Suskind has presented at more than 30 local, state and national conferences and presented and spoken before international audiences. She has co-authored one book called The PreK-2 writing classroom: Growing confident writers and authored 16 articles in journals, including Language Arts, Kappan, Talking Points and Social Studies Research and Practice.
"We are looking forward to welcoming a person and educator of the caliber and expertise of Dr. Suskind," said Hal Waller, Riverside's Head of School. "Given her variety of experiences in the field of education, among other endeavors, we're sure her messages of empowerment and growth through learning will resonate with our students."
Dr. Suskind holds a Ph.D. from the University of Virginia and a Bachelor of Arts degree and Master's of Education degree from Virginia Commonwealth University. Her research interests include gender, creativity, writing and critical pedagogy.
About Riverside School
An independent day school based in Richmond, Va., Riverside School's mission is to provide remediation of language skills for students with dyslexia and similar language-based learning differences in grades K-8, so that they can return to mainstream education fully prepared to realize their highest potential. Riverside's teaching approach is dedicated to providing small classes, individualized curriculum, one-on-one instruction and a nurturing environment to enhance the learning experiences of children with dyslexia.