Fall in Love With Reading at the Riverside Scholastic Book Fair
Wednesday, November 6th, 2019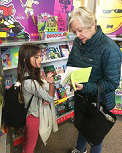 Please mark your calendars for the Scholastic Book Fair to be held at Riverside School from Nov 22-26. It will coincide with the annual 'Grandparents and Special Friends Day' event on Nov. 26.
Riverside's Scholastic Book Fair is a reading event that brings a wonderful selection of books for students to choose from. Students will shop with parents and loved ones rather than on their own.
Please see below for more information, including dates and times for Scholastic Book Fair.