For Riverside Alumnus Patrick Quinn, Competitive Beard-Growing Helps Fuel His Give-Back
Wednesday, May 15th, 2019
by Andrew Blair
­
It has been more than six years ago since Riverside alumnus Patrick Quinn shaved his beard.
Mind you, he's not neglectful. Just the opposite, in fact. Quinn has let his face follicles flourish uninhibited as a competitive beard-grower.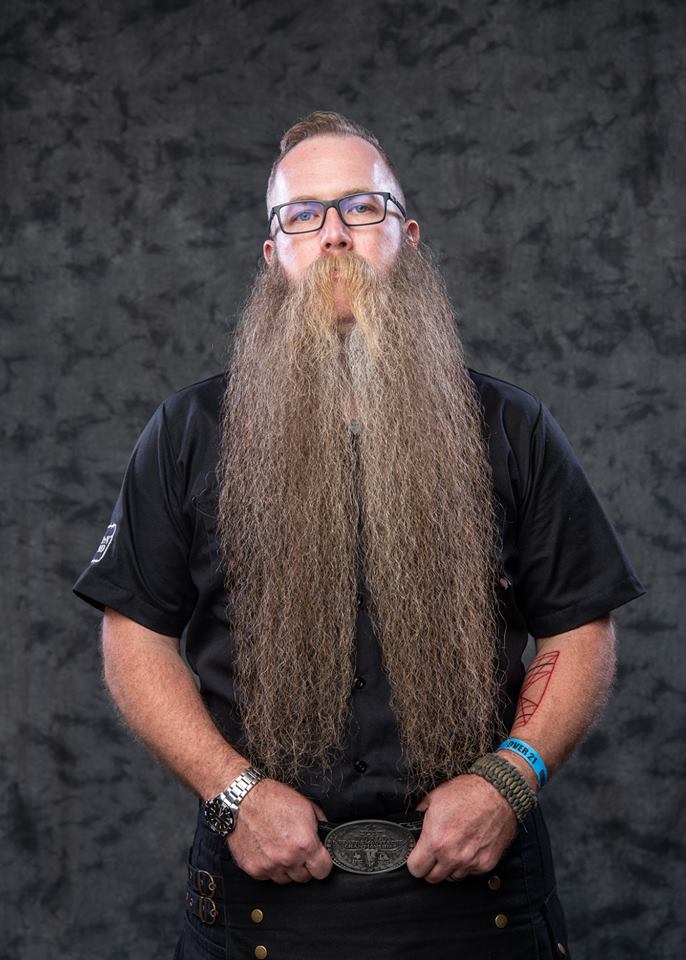 Quinn has a brown and gray mutton chops beard that now measures a foot and a half—enough to make American Civil War general Ambrose Burnside, once the possessor of a similar style—envious.
Quinn started his beard growth spurt when he joined a Richmond-based club, RVA Beard League, whose membership, according to the organization's website "is open to all bipedal mammals who support facial hair, including the (in)voluntarily clean shaven. We proudly sport facial hair and believe that any guy who can grow it, should. Whether short or long, represent and grow whatever suits you best—that's all we ask."
Since that bit of inspiration, Quinn's beard has earned him two national titles in the mutton chops category. He's won 40 competitions and ranks second in the world by the World Beard and Moustache Association (WBMA) for his beard-growing efforts. He placed second in the sideburns / natural category at the World Championships in Austin, Texas, two years ago and has high aspirations this time around in the same grow-off bonanza.
The 2019 World Beard and Moustache Championship are set for this week Belgium and will be conducted Friday-Sunday, May 17-19. Quinn leaves for overseas on May 15.
"I think I have a good shot," says Quinn, a 40-year-old handyman who resides in Powhatan.
Victory or otherwise, Quinn has more than a lengthy beard—a giant heart. He doesn't get paid a cent for his victories. Instead, all of the competitions have a charitable connection. Quinn has chosen to help breast cancer survivors, veterans and individuals suffering from amyotrophic lateral sclerosis, commonly known as ALS, among other feel-good initiatives.
Quinn won last year's Great American Beard and Moustache Championship, held at The National in Richmond, claiming the sideburns / mutton chops category. More importantly, his triumph in the event raised more than $30,000 for charity.
Admittedly, Quinn gets some stares with such a distinctive look, but he notes that his wife, Katie, whom he married in 2011, is a fan.
"She loves it. She adores my beard," says Quinn, who notes that he doesn't let anyone touch his beard. The effects, after all, of such a random test touch could have unwanted and lasting ramifications. "She loves the attention it gets."
Strangers might not guess it based on the fur explosion on his face, but personal attention has been a big player in Quinn's life. Quinn is dyslexic and attended Riverside in the late 1980s. He credits the one-on-one time with teachers in overcoming the disability as a life-changer.
"The things I learned at Riverside improved my life pretty substantially," says Quinn, who counts Riverside founder Pat DeOrio, or 'Mrs. D' as she is affectionately referred to by many alumni, as a factor in improving his education and life. "The help and learning tools they gave me help today—even the things you think are mundane at the time—have helped. Of course, 'Mrs. D' is awesome."
Admittedly, Quinn occasionally has an itch to reach for some by now well-rested clippers, but that temptation is like an irritation that quickly disappears.
"It gets in the way. It gets snagged on something or it gets wet in the rain—sometimes I think about cutting it—but it goes away in a split second," he says with a smile.
Author Andrew Blair is communications and marketing coordinator at Riverside School.