General Assembly Session to Have Riverside Flair
Tuesday, January 7th, 2020
Congratulations to one of Riverside School's own, 13-year-old Silvio Troy, who has been selected to work as a Senate Page in the 40-member Virginia Senate when the General Assembly session resumes tomorrow. Riverside is an independent day school for students in grades K-8 who have dyslexia.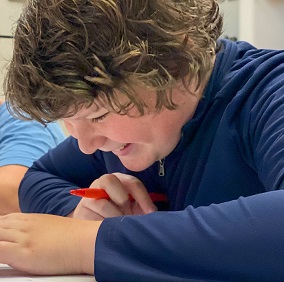 Silvio (pictured right) was selected among a very competitive field of more than 150 applicants from throughout the commonwealth. His 2020 Page class consists of 40 pages—26 girls and 14 boys. As a part of this prestigious honor and selection, Silvio will be at the Senate each day during the week assisting legislators in a variety of tasks. He will also get  a rare, firsthand look about how the legislative process works over the course of the scheduled 60-day session and how the three branches of our government works.
Some of the jobs Senate Pages undertake include assisting senators and Senate staff, including staffing Senate Committees, as well as the actual Senate itself, and being certain that all of the bills under consideration are in a Senator's books, either in Committee or while on the floor.
Other responsibilities entail running errands, answering phones and handling other general office duties. Pages are tasked with putting together a newsletter and engaging in an always-insightful Page Debate that annually draws great interest.
The Senate program is formalized under Standards of Learning, recognized by the State Board of Education and also considered as one of the best and most rigorous in the country.
Silvio will also coordinate with Riverside teachers and the Head of School about the assigned and completion of classroom work, but he will spend the vast majority of his time at the State Capitol. In addition to keeping up with school work (seven to nine study halls every night), Pages are required to complete the assignments that they receive from the Senate Page program of reporting twice a week on a topic in the local newspapers, which is also done during study halls.
Moreover, Pages like Silvio get to experience what life is like on their own in gaining a sense of independence. Pages, who are paid, reside in a local hotel with chaperons during their employment, but it is not unusual for them to go out to eat either on their own or with fellow Pages. Pages work from 8:15 a.m.-5 p.m., Monday-Thursday, and 8:30 a.m.-12 p.m. on Fridays in order to travel home before returning to work on Sunday evening.
Interestingly enough, this won't be Silvio's first touchpoint with official proceedings. He is president of Student Council at Riverside and his father, the Hon. Anthony Troy, is former Attorney General of Virginia (1977-78). Today, he is a member of the Eckert Seamans law firm and has served on Riverside's Board of Trustees' since 2018.
Riverside joins in congratulating Silvio on this tremendous honor!