Teacher Spotlight: Helping Students With Dyslexia A Personal Endeavor for Mrs. DeWitt
Thursday, March 1st, 2018
Lisa DeWitt and her husband, Brydon, were not about to watch in vain like spectators as two of their three kids dealt with the challenges of dyslexia.
Instead, they put themselves front and center on the playing field and made sure their son, Mark, and daughter, Caroline, wouldn't have to deal with their learning disability alone. There were warning signs of something amiss both in school and at home. Mrs. DeWitt recalls an interesting conversation with Mark while reviewing his math homework.
"Mark," she asked softly, "what is four times three?"
"Twelve," he answered.
Mrs. DeWitt nodded her head agreeably. She looked down at his paper and noticed his answer was marked incorrectly. Then she saw why. He'd reversed the numbers and wrote '21.' At another point, after an extensive review of the letter 'a,' Caroline was still unable to name the letter. These are just two examples of a myriad of red flags for dyslexia.
The incidents weren't altogether surprising. Though her oldest son, John, isn't dyslexic, Mrs. DeWitt long suspected her daughter and other son were having difficulty sorting out letters, numbers and words.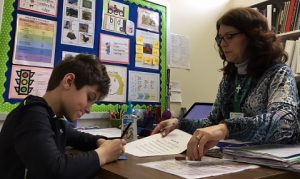 The family's suspicions were verified when Mark was diagnosed with dyslexia through educational testing in third grade. This was important because third grade is regarded as a significant year in a child's education as this is when students read to learn rather than learn to read.
Mark possesses enviable athletic prowess in baseball, gymnastics and wrestling, but dyslexia and its effects nearly drowned his self-esteem before his parents stepped in. Admittedly, at times, it felt like a lonely battle for Lisa and Brydon in attempting to help the public school systems appreciate that their children learn differently than other kids because they are dyslexic. They knew teachers were listening, but did they really know how to help?
"Emotionally, I thought we were going to lose (Mark), not life or death, but that he'd just give up on school," Mrs. DeWitt says. "We had to be his advocate. It was very stressful.
"I was upset—not that that my children were dyslexic—but that I needed help. I thought, 'How can we help them. How can I help them?' "
Along the way, the family gained a semblance of comfort in discovering that most students with dyslexia are quite bright. This was borne out with Mark's psychological testing.
Despite her son's frustrations, Mrs. DeWitt often had to repeat a reassuring message to him that however difficult school seemed, he was plenty capable of doing the work with the proper tools.
"You're very smart," she often reminded him. "It shows it right here on your IQ test. I said, 'You just haven't been given the right tools. We need to find a way that's going to help you.' "
Fortunately, the experience with their son was valuable for the DeWitt family. They knew not to wait when they suspected something amiss with Caroline and intervened quickly. Testing showed Caroline exhibited features of mild dyslexia prior to kindergarten.
Later, Mrs. DeWitt found a private Orton-Gillingham tutor whom Mark and Caroline studied under on a regular basis. Caroline went twice a week for five consecutive years.
Whether by fate or circumstance, the woman helping Mark and Caroline suggested that Mrs. DeWitt be trained in the Orton-Gillingham Approach. Turns out she received the training and went on to do private tutoring in the community.
Mrs. DeWitt was hired at Riverside in 2015. She initially assisted in areas that ranged from clerical work to instructional support. Later, an opening arose in the area of Language Fundamentals (LF) department.
She quickly went to work, delving into learning more about the Orton-Gillingham Approach that is the cornerstone of Riverside's teaching philosophy. Her interactions with colleagues and students, especially from her mentor, Nancy Spencer, a Fellow with the Academy of Orton-Gillingham Practitioners and Educators Teacher Trainer and Supervisor, were so impactful that she will be receiving a certification from the O-G Academy later this year.
"I wanted to absorb the (O-G) information," Mrs. DeWitt says. "The more exposure, the more you learn, the better you can understand, the better you can help someone. I just wanted to be able to help more people."
Mrs. DeWitt is used to providing assistance to others. She often notes that she was drawn to Riverside because of her two dyslexic children, as well as her dyslexic father and brother.
And at Riverside, her dedication is obvious and she is willing to aid with any task and does so with enthusiasm.
"In addition to being a wonderful Language Fundamentals teacher, Mrs. DeWitt is invaluable to Riverside in her role providing office support, including testing and student records," says Hal Waller, Riverside's Head of School. "She takes on every challenge with a smile."
Today, she also teaches three LF students at Riverside. Having dealt with dyslexia on a personal and emotional basis, Mrs. DeWitt learned many lessons that helped form her teaching philosophy today, including allowing students to progress at their own rate, an ideal that was beneficial to her own kids.
"We teach to a student's needs," Mrs. DeWitt emphasizes.
Mrs. DeWitt's teaching experience with children in first through fifth grades has proven that multisensory instruction, along with repetition, is essential for the dyslexic learner to grow and develop. The proof is in her students' continual progress.
"She knows how to do syllable division and that helps me learn more," says Riverside student Caden Raymond, a fifth-grader.
Lisa and her husband, as concerned parents, were committed to providing their kids with the necessary resources to be successful. As their children have matured, they also emphasize the importance of self-advocacy, self-sufficiency, as well as the significance of making responsible choices. Today, Mark is a high school senior and is headed to Bridgewater College in the fall, while Caroline is in seventh grade. Though their dyslexia still rears its head, both are honor roll students. John is a sophomore Liberty University.
Importantly, Mrs. DeWitt wants kids and families to know that they are not alone in confronting the complexities of dyslexia and believes the Orton-Gillingham Approach is not only reliable, but empowering.
She is not only a teacher, but an advocate for kids, particularly those at a young age.
"For me to help other people—I know what it is like. I know what it is like for the child, the family and I want to be able to serve other people and offer hope," Mrs. DeWitt says. "I want to give other people the knowledge that everything is going to be fine. To see students improve and see everything they learn, when given the proper tools, is amazing."