Inaugural Fan District Association (FDA) Fan-tastic Art Fest is This Saturday, June 1
Tuesday, May 28th, 2019
RICHMOND, Va. –– The first Fan District Association (FDA) Fan-tastic Art Fest is set for this Saturday, June 1 from 10 a.m.-12 p.m.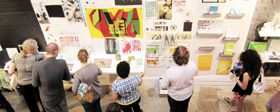 The event will feature an enjoyable and engaging morning of art sharing and art making at Scuffletown Park (418 Strawberry St., Richmond, Va. 23220, 804-272-7401) in the Fan district. Attendees are encouraged to bring a piece of art to be judged and potentially awarded prizes.
The festivities will include many fun activities, including art creation, as well as art tables live music, lemonade refreshments and hot dogs and popcorn. All told, a wonderful day is in store and the gathering is located near Virginia Commonwealth University's School of the Arts.
Please visit www.fandistrict.org or see the poster below to learn more.