New Basketball Clinic Sign-Up Available for Main Building Students
Thursday, March 4th, 2021
NORTH CHESTERFIELD, Va.— Riverside is pleased to offer upcoming basketball clinics for Main Building students. The clinics, conducted by Coach Cam Childress, will be conducted on Friday, March 19 and Friday, April 2 from 2:15-3:30 p.m.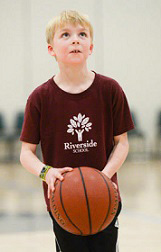 The first 10 students to return their basketball release form by clicking here, along with submitting the $24 activity fee, will reserve their spot.
As in the past, our focus is centered on learning teamwork and basketball skills, encouraging full participation, and having fun. The clinics will be conducted outside, weather permitting. In the event of inclement weather, activities will move indoors to St. Michael's gym. Masks will be worn when social distancing can not be maintained.
Participants will need to bring the following items:
• Change of clothes
• Water bottle
• Basketball—if your child wants to bring his or her own
Pick-up after practice will be in the front of Riverside School. Please use the McRae Road entrance for basketball pick-up. Questions? Please contact Coach Childress at [email protected].