New Position at Riverside A Welcome Rewind in Time for LF Instructor Mary Raper
Friday, December 14th, 2018
by Andrew Blair

WHEN RIVERSIDE SCHOOL LANGUAGE FUNDAMENTALS (LF) instructor Mary Raper interviewed for the Summer Camp Coordinator position at the school, she wanted to go back in time.
When she was a student at the University of Virginia in the mid-1990s, Mary worked at summer camps and found the experience educational, enriching, and enjoyable.
Within the past few weeks, aspiration met reality when she was hired for the position at Riverside.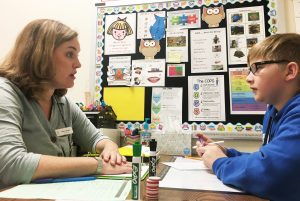 "I'm going back to my love of summer camps," she says today.
In this role, Mary will primarily be responsible for overseeing all aspects of Riverside's Summer Camps for kids that are conducted in mid-July and are typically comprised of students from ages 5-12.
Riverside Summer Camps provide educational enrichment by supplying campers with one-on-one, multisensory language tutoring, as well as reinforcing lessons that students have gleaned throughout the school year. The Orton-Gillingham (O-G) Approach, the cornerstone of Riverside's teaching philosophy, is an important part of the educational portion of the camps. Lessons envelop tutoring, phonics, reading, spelling, alphabetizing, sequencing, math enrichment, handwriting and writing skills, among other areas.
Additionally, campers engage in reinforcement activities, including crafts, music, library exploration, outdoor time, art games, movement and creative team sports, among other endeavors.
The position was appealing to Mary because of her passion for Riverside and desire to continue students' progress beyond the conclusion of the school year.
"Our goal is to make and maintain academic progress in a fun, stress-free, laid-back setting," Mary says of the camps. Her son attended Riverside from 2015-18. "If you can have students not forget what they learned during the school year, they can pick up right where they left off."
An LF teacher at Riverside since 2016, Mary's background is a natural fit for the position, which requires administrative, logistical, and hands-on duties, as well as advance planning and day-to-day responsibilities to ensure the camps run smoothly from an operational and educational perspective. Most of all, she wants the camp experience to be beneficial to children on a variety of levels.
Mary's work as an LF tutor at Riverside entails one-on-one instruction with students who have dyslexia. Consistent with Riverside's emphasis on individualized, tailored instruction, with each student, she uses the O-G Approach to teach and facilitate students' growth.
Mary believes there is always something new to learn and views the camps as an important outreach effort to the community largely due to the emphasis on education and the approach to learning in a welcoming environment for kids.
Mary has an extensive teaching background. Prior to arriving at Riverside, she taught seventh grade for five years at Tuckahoe Middle School and was a fifth-grade teacher at Nuckols Farm Elementary School for three years. She has also worked as an adjunct instructor in English at East Coast Polytechnic Institute (ECPI) University and has conducted grammatical workshops in business-oriented settings.
After graduating from U.Va. in 1996, she went on to earn her master's degree in education at Old Dominion University and received a master's in children's literature from Hollins University.
For adults, Riverside offers an intense, 10-day, 60-hour course focused on the Orton-Gillingham Approach to teaching in mid- to late-June conducted by Cynthia Davis, Riverside's O-G Coordinator and an Academy of Orton-Gillingham Practitioners and Educators (AOGPE) Fellow.
ABOUT RIVERSIDE SCHOOL
An independent day school based in Richmond, Va., Riverside School's mission is to provide remediation of language skills for students with dyslexia and similar language-based learning differences in grades K-8, so that they can return to mainstream education fully prepared to realize their highest potential. Riverside's teaching approach is dedicated to providing small classes, individualized curriculum, one-on-one instruction, and a nurturing environment to enhance the learning experiences of children with dyslexia.
Author Andrew Blair is communications and marketing coordinator at Riverside School.