Riverside Instructor Cynthia Davis Accepted as an AOGPE Fellow
Tuesday, May 8th, 2018
NORTH CHESTERFIELD, Va. –– Riverside School, Virginia's most trusted school for dyslexic students in grades kindergarten through eighth grade, has announced that instructor Cynthia Davis has been accepted as a Fellow of the Academy of Orton-Gillingham (O-G) Practitioners  and Educators (AOGPE).

Becoming an O-G Fellow represents the highest level of credentialing from the Academy. The achievement represents hundreds of hours of coursework and teaching and demonstrates Mrs. Davis' commitment to honing the craft of the Orton-Gillingham Approach.

Mrs. Davis becomes only the fourth instructor in the Riverside School's 44-year history (the school was founded in 1974) to be accepted as an AOGPE Fellow, joining past AOGPE Fellows Carolyn Webb, the late Ruth Harris and Nancy Spencer.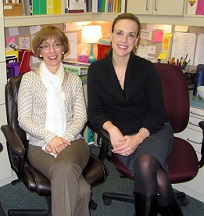 Mrs. Davis had Mrs. Spencer as her mentor while she was an AOGPE Fellow-in-Training.
"There are no adequate words to thank her for all the time, energy and encouragement she gave me as she trained me to the Fellow level of Certification," Mrs. Davis said of Mrs. Spencer. (Mrs Davis is pictured right with Mrs. Spencer.)
A Language Fundamentals (LF) teacher at Riverside, being an AOGPE Fellow qualifies and enables Mrs. Davis to teach the O-G Approach to others, as well as to conduct and oversee tutor training, teacher observations and program evaluation. LF tutoring at Riverside entails one-on-one work with students who are dyslexic.

Orton-Gillingham has been the gold standard approach for helping dyslexic children for more than 70 years. The O-G Academy was established by its Founding Fellows to certify and accredit educators and schools to the highest requirements. 

Mrs. Davis, who arrived at Riverside in 2008, credited her colleagues with showing unwavering support.

"All the LF teachers were so patient with me as I learned to teach teachers, learned the instructive process of the lesson observation and report, and learned how to deliver effective large group instruction and one-on one mentoring," says Mrs. Davis, who has more than two decades of teaching experience dating back to 1991. "They were gentle with me, and most of all, gave me words of encouragement, often when I needed them the most. They were my cheerleaders and my support group, and I can't thank them enough for believing in me."

The feeling is mutual.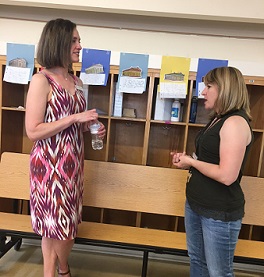 "The Riverside staff, teachers, faculty and staff join in congratulating Cynthia on this tremendous accomplishment, which represent years of arduous work and incredible commitment," says Hal Waller, Riverside's Head of School. "Cynthia is a shining example of how amazing Riverside teachers are and the difference they make in our students' lives day in and day out." 

Reaching the Fellow level is an extensive process that entails hundreds of hours of training, classwork, reading, writing, curriculum development, presentations, evaluation and more. Mrs. Davis' path to becoming a Fellow included the study of knowledge of dyslexia and reading disabilities; review of phonology and handwriting instruction; case management and professional communications; formal and informal assessment measures; understanding and interpretation of standardized testing; student profiles and matching lesson plans and knowledge of methods and programs derived from O-G.

Mrs. Davis also had to personally design, explain in detail and defend an entire O-G-based curriculum and was subject to hundreds of hours of observation to ensure that she was teaching according to the O-G Approach. Her application to become a Fellow spanned more than 800 pages.

She has presented on teaching children who have dyslexia and has conducted workshops for educators. This spring, Mrs. Davis was a presenter at the annual conference of the O-G Academy in Charlotte, N.C. Her seminar was entitled "The Role of Syntax in Teaching Reading Comprehension: Bridging the Gap." The session, in part, examined why syntax is important to comprehension, and explored instructional techniques that can teach children syntax in a way that will directly affect their comprehension of text.

Mrs. Davis is a member of the Virginia Branch of International Dyslexia Association (VBIDA) Board of Directors. VBIDA is a branch of the International Dyslexia Association (IDA).

Although many schools and tutoring centers will employ teachers who use the O-G Approach, Riverside is one of just 14 fully-accredited schools in the world. The Academy sets a very high bar for a school to qualify as an accredited school, and Riverside has been meeting and exceeding this standard for decades. Mrs. Davis acknowledged the school's support in her three and a half year pursuit of becoming an AOGPE Fellow.

"The administration at Riverside patiently supported me even in the outside-of-Riverside endeavors that I took on to strengthen my application, such as presenting at the Academy and serving on the VBIDA board," Mrs. Davis notes. "They sent me to every professional development opportunity possible, and they protected my time from non-training tasks so that I could focus my efforts on working toward certification."

Riverside is one of just 17 Academy Accredited Training Centers in the nation. In addition to training its own teachers, Riverside instructors train educators through our summer Riverside Course and additional outreach. Teachers come from all over the United States to be trained by Riverside teachers in the O-G Approach.

Mrs. Davis holds a Bachelor of Arts in Developmental and Child Psychology from Duke University and a Master's of Education in Cross Categorical Special Education from UNC Greensboro.