Riverside School Announces the Addition of a Language Fundamentals Instructor
Tuesday, August 18th, 2020
NORTH CHESTERFIELD, VIRGINIA –– Riverside School, Virginia's most trusted school for students with dyslexia in kindergarten through eighth grade, has announced the hiring of Kathie O'Neill as a Language Fundamentals instructor.
Ms. O'Neill arrives at Riverside from an educational setting, having tutored students at Millwood School in grades 2-5 in the areas of reading, writing, and math (2015-20). At the Midlothian-based school, she provided one-on-one instruction to students with dyslexia and language-based learning differences using an Orton-Gillingham based approach to successfully express, teach, and ingrain educational concepts.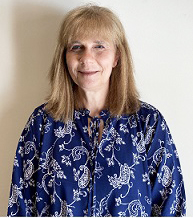 The Orton-Gillingham approach is at the cornerstone of Riverside's teaching philosophy and Ms. O'Neill has embraced the approach. She took Riverside's Orton-Gillingham associate level class during the summer of 2018. Moreover, Ms. O'Neill recently completed her Orton-Gillingham associate level practicum, and she is now certified with the Academy at the associate level. Ms. O'Neill has provided afternoon Orton-Gillingham tutoring during the school year for a student who attended Riverside's Orton-Gillingham camp in the summer.
Ms. O'Neill has also been a classroom aide at Midlothian Montessori School in Richmond. Her work included delivering focused reading and spelling instruction to elementary school students as well as monitoring their progress. During her tenure, she offered leadership in a variety of areas, including successfully undertaking the hearty task of creating and maintaining a library for the school. Additionally, Ms. O'Neill was at the forefront of authoring Montessori's application brochure and enrollment materials.
Prior to entering the field of education, Ms. O'Neill spent nearly 10 years working in the legal profession, including as an attorney and co-author at Faulkner & Boyce, P.C. in New London, Connecticut. Her duties included researching and writing the yearly supplement to the Connecticut Trial Evidence Notebook, including the addition of new sections and editing of previous ones to keep current with the most recent case law and statutory changes. Her experience also enveloped litigation preparation, legal research, drafting memoranda, and assisting with trial preparation, among her other responsibilities.
Ms. O'Neill clerked in the Children's Rights Unit at Greater Hartford Legal Aid in Hartford, Connecticut, where she was heavily involved in dealing with cases and legal matters related to children's law, covering a number of different areas.
Ms. O'Neill earned her Bachelor of Arts degree from the College of William & Mary, and a Juris Doctor degree from the University of Connecticut School of Law.
Riverside's 2020-21 school year is scheduled to start on Aug. 31, 2020.
ABOUT RIVERSIDE SCHOOL
Riverside School transforms the lives of students with dyslexia and similar language-based learning differences while supporting a community of highly trained teachers and staff who specialize in educating these students to their highest potential.