Riverside School Announces Tricia Lucas as New Director of Finance
Monday, September 10th, 2018
Riverside School, Virginia's most trusted school for dyslexic students in kindergarten through eighth grade, has announced the hiring of Tricia Lucas as the school's director of finance.
Mrs. Lucas arrives with more than 15 years of experience in previous roles in management, director, and coordinator roles. At Riverside, Mrs. Lucas will oversee all aspects of the school's business office. She began her capacities on Sept. 10.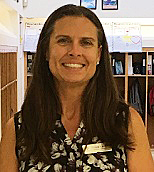 Most recently, Mrs. Lucas spent four years (2014-18) as an office manager at EDC, a commercial general contractor company in Midlothian. At EDC, she handled the day-to-day operations of the entity's corporate office, enveloping its 70 staff members. In her capacity, she created, allocated, and monitored resources for a nearly half-million dollar budget. Mrs. Lucas' responsibilities spanned touchpoints covering accounting, information technology, facilities management, event planning, human resources, and other areas.
Prior to arriving at EDC, Mrs. Lucas rose through the ranks as an employee at University Instructors Inc. in Richmond where she worked for more than 10 years (2002-13), ultimately being promoted to director of operations. The company helps boost student achievement through daytime tutoring, afterschool programs, summer camps, and educator staffing.
In her roles, she established a functioning recruiting department where she was integral in developing and maintaining personnel tracking, as well as facilitating employee engagement. She was part of adding and retaining qualified staff and measuring and reporting on personnel efficiency and successes. Mrs. Lucas streamlined its operations by developing a host of online databases, implemented 'virtual' offices, dealt with internal and external constituents, created, cultivated, and maintained relationships with vendors, and reviewed contracts to ensure regulatory compliance, among her many other duties.
Outside of work, Mrs. Lucas enjoys coaching her children's basketball and soccer teams, as well as running races and competing in triathlons. She is part of the planning team for the megsmiles Women's Conference.
Mrs. Lucas earned her bachelor's degree in accounting from Old Dominion University.
ABOUT RIVERSIDE SCHOOL
Riverside School is Virginia's most trusted school for dyslexic students in kindergarten through eighth grade. An independent day school based in Richmond, Va., Riverside's mission is to provide remediation of language skills for students with dyslexia and similar language-based learning differences in grades K-8, so that they can return to mainstream education fully prepared to realize their highest potential.
Riverside provides a tailored curriculum and utilizes the Orton-Gillingham (O-G) Approach to support the needs of students. With this in mind, Riverside's teaching approach is dedicated to providing small classes, individualized curriculum, one-on-one instruction, and a nurturing environment to enhance the learning experiences of children with dyslexia.