Riverside School Names Leo Rohr as New Director of Development
Wednesday, August 8th, 2018
Riverside School, Virginia's most trusted school for dyslexic students in kindergarten through eighth grade, has announced the hiring of Leo Rohr as its new Director of Development.
In his role, Leo will primarily be responsible for overseeing all aspects of Riverside's development department and spearheading the school's fundraising initiatives.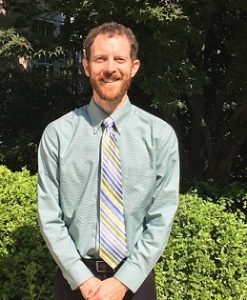 Leo arrives at Riverside having spent nine-plus years at The American Civil War Museum in Richmond. Additionally, he has served as a Foundation Board Member at the Richmond-based Maggie L. Walker Governor's School for Government and International Studies (MLWGS), one of the top public schools in the commonwealth. There, he is actively engaged on the school's volunteer leadership team as a member of the Alumni and Development committees.
"We're pleased and very excited to welcome Leo to our team and the Riverside family," said Hal Waller, Riverside's Head of School. "He brings with him a broad range of experiences and a wealth of knowledge that will help facilitate our near and long-term growth on a variety of levels."
During his time at The American Civil War Museum, some of Leo's responsibilities enveloped managing internal and external communications, dealing with internal and external constituents to broaden awareness of the museum, and overseeing donor database management. Further, he was engaged in managing and overseeing the entity's website, social media platforms, event planning, videography, video editing, advertising, and writing to promote the museum.
Leo also brings with him a background in the area of education. He has been a volunteer on the Board of Directors for the Maggie Walker Governor's School Foundation since 2009 and a Board Member since 2015. In this role, Leo has been a part of the school's event planning, support, outreach, and fundraising initiatives. He just completed a two-year term as Chair of the school's Alumni committee and is also a past President of the Richmond Alumni Chapter.
Leo owns a Bachelor of Arts degree in Archeology at the University of Virginia and graduated from the school in 2003.
Leo started in his role at Riverside on Aug. 5. Riverside's 2018-19 school year begins on Aug. 27.
ABOUT RIVERSIDE SCHOOL
An independent day school based in Richmond, Va., Riverside School's mission is to provide remediation of language skills for students with dyslexia and similar language-based learning differences in grades K-8, so that they can return to mainstream education fully prepared to realize their highest potential. Riverside's teaching approach is dedicated to providing small classes, individualized curriculum, one-on-one instruction, and a nurturing environment to enhance the learning experiences of children with dyslexia.