Show Your Riverside School Spirit By Shopping Riverside's 'Swag' Store
Tuesday, November 24th, 2020
This holiday season, show your Riverside School pride by shopping the school's online 'swag' store.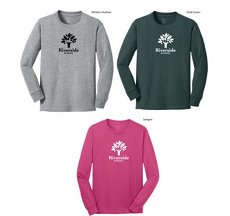 Riverside and its Parent Association have partnered to offer select school merchandise that will have you looking stylish while backing our school. These items offer the perfect indulgence or gift to a friend, family member or loved one in displaying support for all-things Riverside—just in time for the holidays!
The online store includes:
• – T-shirts (short and long sleeve)
• – Sweatshirts (crews and hoodies)
• – Polos
• – Baseball caps
• – Masks
New this fall are Riverside masks in youth and adult sizes. Looking for a way to stay warm this winter? Hoodies and crewneck sweatshirts are a great option!
Please click here to start shopping (click on the Riverside icon on the site) >>
The store is OPEN now and closes Friday, Dec. 4. Purchased items will be delivered to Riverside for distribution on Friday, Dec. 18. Please contact Riverside School if you have any questions at: (804) 320-3465.