Student School Year Concludes With Moving-On Ceremony
Thursday, June 7th, 2018
NORTH CHESTERFIELD, Va. –– Riverside School, Virginia's most trusted school for dyslexic students in grades kindergarten through eighth grade, concluded its student school year with its annual Moving-On ceremony, conducted on campus today.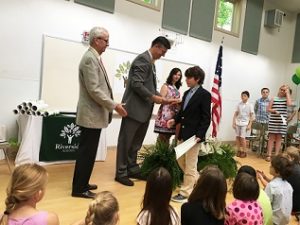 The event signals kids' departure from Riverside School  as they prepare to set off to a different public, private or specialty school for the 2018-19 school year. Empowering students with language-based learning differences so they can continue to flourish in a variety of ways is a mission that is at the center of the Riverside School 's purpose.
Congratulations to today's 'Moving-On' students Jack Chumbris; Ann Marin Crawford; Margaret Deener; Jackson DiCello; Joni Hopkins; Tali Krumbein; Griffin Osborne; Isabella Puccinelli; Jake Raper; Jonathan Sebera; Andrew Spasojevich; Anna Telfian; Avery VanHimbergen; Finn Weisleder and Daniel Williams.
Please click here for a photo gallery from the Moving-On ceremony >>
ABOUT RIVERSIDE SCHOOL
An independent day school based in Richmond, Va., Riverside School's mission is to provide remediation of language skills for students with dyslexia and similar language-based learning differences in grades K-8, so that they can return to mainstream education fully prepared to realize their highest potential. Riverside's teaching approach is dedicated to providing small classes, individualized curriculum, one-on-one instruction, and a nurturing environment to enhance the learning experiences of children with dyslexia.