Teacher Spotlight: Mrs. Mayer Finds Joy in Students' Learning, Growth
Monday, February 19th, 2018
Wander the halls of Riverside during a school day and you'll undoubtedly hear the sounds of celebratory achievement emanating from Riverside teacher Heather Mayer's cozy but comfortable classroom comprised of kindergarteners through second graders, ages 6-8.
The sounds are likely mini-galas for a student who annunciated a word correctly for the first time. Or that controlled delight you hear might be a child receiving recognition after identifying a state in the U.S. correctly. If you hear cheering, it could very well be for a member of class earning accolades upon grasping a principle of punctuation.
One thing is certain: It's nearly impossible to wipe the smile off Mrs. Mayer's face as she leads her class in the subjects of literature, writing, math, science and social studies.
She is, after all, the eternal optimist.
"I think that is me as a person," she says.
Turns out that the traits of a teacher often translate to their students. Mrs. Mayer loves to see Riverside students do well. She is an enabler to those who face the challenges of dyslexia and learning-based language differences each day. Consistent with Riverside's mission, Mrs. Mayer's hope is to facilitate an educational dynamic that imbues students with a sense of empowerment and intellectual independence.
When Mrs. Mayer came to Riverside in 2009 she was a substitute teacher and had very few interactions with dyslexic students prior to arriving, but received support at every turn from the Riverside community, including fellow teachers and administrators that seemingly never fails to this day.
"I feel like there is so much support here—and friendship. I feel like we have friendships here and not just co-worker relationships," she says.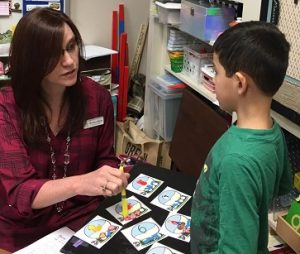 It didn't take long for the spirit of the Riverside community to sweep her up in the current of unlimited possibilities. Being well-informed and unfailingly energetic made her a better teacher and she got her own classroom early in her tenure at Riverside.
"I learned more than I ever wanted to know about language and how everything works together, but it was very eye-opening to know this information and see how children are affected when they don't understand language, reading and decoding," says Mrs. Mayer, who earned associate's level certification in the Orton-Gillingham Approach that is at the cornerstone of Riverside's instruction. "They didn't even have the building blocks to do any of this and then be able to learn it and put it together—it's like that light bulb going off."
In her first few years, Mrs. Mayer immersed herself into the Riverside environment, teaching in the classroom, while simultaneously working with students on an individual basis in Language Fundamentals (LF) tutoring. Though she is in a classroom exclusively these days, the impact of doing both has made a lasting impression in facilitating students' growth, progress and has improved her style of teaching. She expertly tailors her methods to each individual, a dynamic that Riverside demands.
"When students come back to the classroom, I know what to look for and what to incorporate," she says, noting the dual benefits of LF and classroom teaching. Mrs. Mayer credits her husband, Brian, and daughter, Kendra, with being a supporting presence. "It gave me an understanding of what we are doing at Riverside as whole."
Each day represents a learning process. Achievement via both small and large steps, she knows, is worthy of praise that sometimes take on interesting and fun forms.
"You know how hard that child has to work to 'get it' and they have to work longer and harder at it, but when they get it, you're celebrating with that child," Mrs. Mayer says. "My students want to do 'victory dances,' as they call it, so we do 'victory dances' when they finally get a concept. It's really fun. For me, that's the most rewarding thing about being at Riverside—seeing them finally understand something and understanding how hard they have to work to get it.
"We have a little moments throughout the day where these students make me laugh. We laugh in here (the classroom) a lot. These students work so hard. They're a lot of fun to work with and to get to know, whether it's the Super Bowl, trucks, tractors or for them to tease me about how much pink I might wear. It all puts a smile on my face."
Her students and colleagues have taken note of Mrs. Mayer's enviable energy and non-stop engagement in teaching a variety of subjects.
"Mrs. Mayer exemplifies professionalism and facilitates a nurturing classroom environment," says Hal Waller, Riverside's Head of School. "She is the consummate professional and is focused on each of her students' achievement."
Students with dyslexia sometimes tend to be visual learners and Mrs. Mayer's use of photographs has made an impact on her class.
"I like Mrs. Mayer. She is so nice," says 7-year-old John, a first-grader in her class. "I like the pictures in the class like the one of her cats laying on her—it made me laugh."
In addition to introducing ideas that aid students in gaining a foothold on language, speech and learning, Mrs. Mayer is no stranger to being piqued by curiosity. Outside of Riverside, she is a talented jewelry designer. Ironically enough, some of the same skills that help her create beautiful jewelry and crafts translate well in a classroom setting such as being creative and imaginative, incorporating some trial and error components and exercising adaptability.
"I think the support by administration is a really positive thing for teachers. I appreciate how the teachers are allowed to try new things if one way of teaching a student isn't working, you can try something else," Mrs. Mayer says.
Comfortable in her classroom and among Riverside schoolchildren, Mrs. Mayer anticipates a bright future; the best, she believes is yet to be.
"I feel like we're in a very good place. We have a strong Board that has a good vision for Riverside. I do want to see it grow and expand—without losing who we are as a school," she says. "We've been going strong for more than 40 years because we do something really specialized here. I want to see that continue and I think it will continue. I hope to be a part of it just as long as I can."