Teacher Spotlight: Passionate About Teaching, Mrs. Waldenmaier Finds Instructional Fulfillment Among Students at Riverside
Thursday, March 22nd, 2018
by Andrew Blair
Her name is Hannah.
It was 2012 and her teacher, Debbie Waldenmaier, was teaching second grade at Colonial Trail Elementary School in western Henrico County. Hannah, 7 years old at the time, was one of Mrs. Waldenmaier's students.
It was obvious to her teacher that Hannah was very smart, but it was also apparent that her student was severely dyslexic.
"She was sooo bright, but darn, she just struggled so terribly with her reading," Mrs. Waldenmaier remembers with sincerity tracing every word of her voice. "In every other aspect, she was one of the most intelligent third-graders I'd ever met. I just wanted so badly to help her overcome and get the strategies that she needed."
Though the Hannah experience wasn't Mrs. Waldenmaier's first touchpoint with a dyslexic child, it may have been one of the most important. Whether by fate or circumstance, Mrs. Waldenmaier—conscientious, caring and energetic—decided that she wanted to do more to help dyslexic children and kids with reading and language-based learning differences.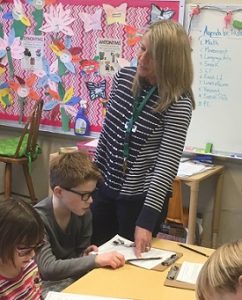 So starting in 2015, Mrs. Waldenmaier took a course at Riverside for three summers and engrossed herself in the Orton-Gillingham Approach that has been at the core of Riverside's teaching philosophy since the specialty school's founding in 1974.
Admittedly, she couldn't have asked for a better mentor than Riverside's Cynthia Davis, a Fellow-in-Training at the O-G Academy, who is now in the process of trying to become an O-G Fellow. O-G Fellows are independent practitioners qualified to train and supervise others in the Orton-Gillingham Approach, as well as being tasked with providing instruction for the dyslexic learner.
For Mrs. Waldenmaier, the timing for her training turned out to be ideal. Riverside began offering internships in the O-G Approach to individuals outside Riverside for the first time during her initial year of preparation three years ago. She had to apply, but her credentials stood out above all other candidates.
"I just got super excited about the O-G Approach," says Mrs. Waldenmaier, who trained for two to three days a week. "For me, we joke all the time that I was the guinea pig of that program."
Turns out that her stay would be long-term. A second- and third-grade teacher in the public school systems in Chesapeake and central Virginia for more than 20 years, after reaching the Associate level in the O-G Approach, Mrs. Waldenmaier aspired to join a school like Riverside.
In the meantime, Mrs. Waldenmaier shared what she learned about the O-G Approach with other teachers at public schools, such as how to communicate the six syllable types to dyslexic kids, so they could help students as well.
Aspiration met reality when Mrs. Waldenmaier was hired at Riverside as a third-grader teacher last May after an extensive and thorough interview process. Her addition to the faculty represented a win-win for the school and Mrs. Waldenmaier.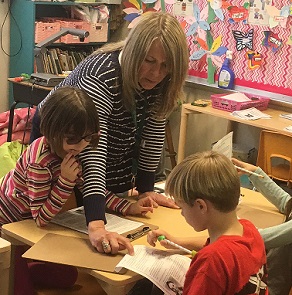 "Wow, she's such an amazing teacher," Mrs. Davis says. "She always wants to get everything right and has a constant desire to learn more. When I think of all the students and teachers who have benefited from her—I'm so happy that she's here. We are very lucky to have her. She pursues excellence in everything she does."
Now in her 23rd year in the classroom, Mrs. Waldenmaier notes that few teaching experiences have been more enriching and empowering than her first year at Riverside.
"Through my association with Cynthia, I was so excited about the school, what I was hearing and what they are doing here," Mrs. Waldenmaier notes.
And, frankly, she was looking for another avenue career-wise as she grew increasingly worried about public schools' almost manic focus on SOLs and pacing guides. At the public level, she wondered if every student was expected to learn as rapidly as the sharpest child in the class. Her conscience made her think if testing a third-grader almost constantly was the best route to facilitating their success. Perhaps most importantly, she questioned whether or not the teaching methods she was being asked to adopt were the most beneficial to her students, especially to those battling dyslexia.
"I had students in public school classroom that were dyslexic," Mrs. Waldenmaier reflects. "Unfortunately, I don't think that the children progressed as well in the services that were available in the public schools that they do [at Riverside] with the O-G Approach."
Her 11 classroom students at Riverside represent the fewest number she's taught as a group in her professional career. The smallish size and her students' enthusiasm for learning has brought Mrs. Waldenmaier some of her greatest satisfaction as a teacher.
"I think that we have an opportunity to meet children exactly where they are and help them attain skills at a rate that is specific to their needs," Mrs. Waldenmaier says. "You get to know each one on a more personal level, their learning style and their strengths and weaknesses."
"Most of the students are still very enthusiastic about school and about learning. And I like that they've really gained a lot of independence. I love that I can mention a new subject that we're going to study and several kids will go check a book out of the library. They're so curious at this age. Developmentally, it is a good fit for me."
Some experts in education believe that third grade is one of the most important in a child's development. In layman's terms, developmentally, at the grade level, kids tend to transition from learning to read to reading to learn.
That said, taken as a whole, most of Mrs. Waldenmaier students, primarily ranging from 8 to 9 years of age, are reading a year or two below grade level. While this dynamic represents immense challenges, it also allows for endless opportunities for Mrs. Waldenmaier to ensure kids are consuming information, rather than hoping they understand what's being taught.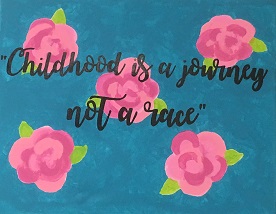 Mrs. Waldenmaier's approach mirrors her longstanding teaching philosophy that is evident to anyone who walks in her classroom. There, a large sign reads: 'Childhood is a journey, not a race.' That credo has served her well at Riverside.
"Dyslexic children spend so much time figuring out and breaking the code of the actual words that so many times the comprehension piece kind of escapes them," she notes. "They think the goal of reading is to get the words right. I think we need to bring them around and just show them, 'We're reading this and we're going to stop. We're going to think about it and digest what's going on.' "
More pertinently today, the O-G Approach is very specific in the way teachers use it to affect their students.
"I think O-G is individualized. It is research-based. There is so much proof it works because it is multisensory," Mrs. Waldenmaier says. "Here, we teach to mastery. We think that is a big draw here. I love that this school gives students that opportunity."
Mrs. Waldenmaier keeps students engaged in the learning process.
"She is very nice and class is fun," says Max, a third-grader and one of her students. "She makes it so the subjects are interesting."
That's partly because Mrs. Waldenmaier has plenty of experiences of her own upon which to rely beyond the four walls of a school and a room full of desks. Importantly, her internal concerns while almost feeling pinballed around at the public level—where excellent teachers have to make the best of a sometimes-dysfunctional system—didn't dampen her enthusiasm for instruction.
Instead, in 2015, while teaching third grade at Colonial Trail, Mrs. Waldenmaier was a recipient of the prestigious R.E.B. Award for Teaching Excellence that included a gift through The Community Foundation. The recognition honors public school teachers who distinguish themselves by their inspiring classroom performance. She was nominated by parents who voluntarily and without solicitation endorsed Mrs. Waldenmaier's teaching acumen.
The grant allowed Mrs. Waldenmaier to travel on an educational endeavor through Greece and Italy for two weeks. She imbued herself in the experience and has applied the knowledge gained from her real-world journeys to the classroom. When she teaches the principles of ancient times in the spring at Riverside, Mrs. Waldenmaier anticipates matching concepts to visuals, including photos of her standing in the Colosseum, as well as showing shots she took of the Parthenon, among other educational tools and insights culled from her trip.
"At this age, students sometimes have a difficult time understanding how the ancient and the modern are related," says Mrs. Waldenmaier, who teaches math, language arts, science and social studies at Riverside. "To show them a picture of me actually standing in the Colosseum and how the (Roman Empire) built a modern city around the Parthenon—having that trip really helps."
It only seems appropriate that Mrs. Waldenmaier traveled beyond the U.S. After all, she seemingly has boundless energy. And she isn't afraid to stand on principle, not when you grow up on Long Island, the oldest of three sisters and a brother—she saw her share of battles for the bathroom and clashes for closet space as a kid.
After graduating college from the State University of New York (SUNY) at Oneonta, she moved to Virginia and got her master's degree in reading from Old Dominion University. Today, she is the proud wife of Eric, her husband of 31 years. They have three daughters, Heidi, Jenni and Anni.
In addition to her occupational responsibilities at Riverside, Mrs. Waldenmaier tutors children with reading disabilities out of her home and is taking a continuing education class at ODU.
All told, it's no surprise to anyone who knows her best that she chose to be a teacher.
"I feel so fortunate that I have been given the gift of teaching and it has been a passion as long as my Mom can remember," Mrs. Waldenmaier says with a laugh.
And she has admittedly found the right fit at Riverside where students, staff members and teachers have been welcoming, supportive and willing to provide direction as necessary.
"The colleagues here are always willing to share everything they have—their knowledge, supplies, games, resources—they are just phenomenal," Mrs. Waldenmaier says. "Right away, you get a family feeling being here."
She is bullish about the school's growth in the coming years and beyond.
"The administrative team here is extremely supportive and I think they have a really positive view as to where we're going to go and what our future holds," Mrs. Waldenmaier notes. "I came at a really good time. This is a really good time to be at Riverside. I think we're growing."
These days, one of her longtime pupils is flourishing in the classroom thanks to Mrs. Waldenmaier's unfailing help.
Her name is the aforementioned Hannah, who is now 11.
She made straight A's in fifth in sixth grade at Short Pump Middle School. She credits Mrs. Waldenmaier, who tutored her outside the classroom from second through sixth grade, with being an ally and a source of unfailing support, especially when she was initially diagnosed with dyslexia.
"She helped me with spelling, reading and always understood how I was processing things," says Hannah, who fondly remembers improving her comprehension aptitude by reading novels with Mrs. Waldenmaier nearly every Friday. "She is fantastic. She would do games to warm up my brain. I still use a lot of the things she taught me. She taught me a lot of strategies that have really helped."
Beyond facilitating Hannah's growth in her pursuit of overcoming a learning disability, Hannah's most important message to Mrs. Waldenmaier is one from the heart and might implicitly be best described as, 'Thank you for being a friend.'
"I love her," Hannah emphasizes.