Veterans Day Has Special Meaning for Riversider Mr. Hofstetter
Wednesday, November 11th, 2020
Riverside School social skills teacher Curtis Hofstetter is admittedly always being shaped by the things he collects. Antique toys. Cars. Contemporary studio art glass. Memories. So much more.
There's no shortage of material from which to cull. On this Veterans Day, some of his most vivid recollections are from being drafted—he gained eight pounds so the Army would take him—and serving in an Army reconnaissance platoon in Vietnam. These thoughts are filled with a portage of blood red that still visit his conscience as he wrestles with the memory of the many soldiers who died on the battlefield, as well as others, like him, who survived.
Part of the Vietnam War is too hard to forget. For some soldiers, the experience was engraved on their 282 Zippo lighters: "Too young to vote, but not to die; too young to love, but too old to cry."
Being in a reconnaissance platoon meant that chances were not in his favor that he would come home alive. Those odds nearly came to fruition when his fire team was sent by helicopter to help another Infantry company that made contact with a large enemy force.
Given the wrong drop instructions, the pilot flew past his intended landing spot and into enemy held positions in tall grass. The helicopter immediately began taking fire.
"I was first to jump out into the chest high elephant grass," Mr. Hofstetter remembers. "When I landed, I felt a burning sensation in my right hand. One of the enemy's bullets initially shot off the front of the handle on my M16 rifle. Then the bullet hit my right thumb and finally grazed a hand grenade on my web belt. Others on the helicopter were also wounded."
One soldier with a serious leg wound was unable to crawl without the assistance of several men. His plan was to be the last one to leave the landing zone, thinking he could follow their path in the tall grass. To this day, Mr. Hofstetter smiles when he talks about what transpired alongside his best buddy, John Ellis.
"Instead of leaving the hot landing zone when 'the getting was good,' John crawled over to me with an expression on his face like 'we got this,' " Mr. Hofstetter recalls.
The two men laid low to the ground and motionless, hoping the enemy would believe they were dead. Their improvisation plan was working until a helicopter came out of nowhere and blew down the tall grass, exposing their position. And to make the situation more problematic, the helicopter's door gunner mistakenly thought the two were the enemy.
The gunner pointed a 30-caliber machine gun directly at them and opened fire. Fortunately, the door gunner's efforts were curtailed when the (real) enemy began firing at the helicopter, prompting it to fly away quickly.
In the seconds when the enemy fired on the helicopter, Mr. Hofstetter and his friend crawled toward their escape path. Remarkably, for four hours, the two men slinked, wriggled, and slithered through the high grass. The enemy continued to fire in their direction.
"To add to the number of bullets aimed our way, my fellow Recon soldiers were returning fire at the enemy, not knowing that two of their own were in their line of fire," Mr. Hofstetter remembers. "We were lying as low as we could to escape both friendly and enemy fire. To this day, it's hard to believe that only one bullet hit me, when so many were aimed at me that day."
The incident was not the most troublesome trial, though.
"The worst days were when we lost a brother," Mr. Hofstetter laments.
Some feelings never heal and Mr. Hofstetter doesn't expect his scars from war to go into safe hiding anytime soon. Or ever. He lost friends who became brothers. In Vietnam, the random nature of war and untamed violence of guerilla warfare became evident with each passing day.
"One of the things that being in combat does to you is that it erases your innocence," Mr. Hofstetter says.
When he came home from war, he returned to his childhood home that he knew in suburban Maryland, the same one his parents immaculately maintained, the same one where his mother's azalea bush served as third base during baseball games as a kid with his friends.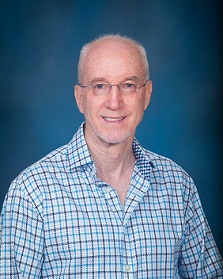 After Vietnam, though, he shouldered the horrors of war, not knowing what to expect out of life. Some motherly advice turned out to be transformative.
"My mother looked at me … I hadn't been home from Vietnam but a week or so, and she said, 'Honey, God saved you for a reason,' " Mr. Hofstetter remembers. "You should go to college."
So he did, ultimately moving from his native Maryland to Richmond, graduating from Virginia Commonwealth University in 1973. Creative, imaginative and a visual learner, Mr. Hofstetter later started his own company called Slidemaker Productions, a business dedicated to making 35 millimeter multi-image slide presentations.
The company and its employees evolved with technology. Its offerings later transitioned to video productions, CD-ROM presentations, and finally, website design and production.
Fortune 500 corporations tapped into the company's aptitude for presentations at national stockholder meetings, sales and new product presentations, trade shows—anywhere for professional promotional purposes.
"We were their corporate storyteller," Mr. Hofstetter says.
With more than 20 years of experience engaging a diverse list of clients, he'd never had a touchpoint with dyslexia until a freelance female colleague noticed something awkward about how he processed information.
"Her mother had been a prominent educator and a psychologist, and every time I would share my notes with her, she would say, 'Are you dyslexic?' I said, 'What's that?' " Mr. Hofstetter recalls. "She called it 'mixed brain dominance.'
"So I started doing a little research and I bought a book called The Gift of Dyslexia, and I realized that my brain needs to make pictures. If I hear a word and can't make a picture, I'm in trouble—not only because I can't make a picture, but because my brain wants to make a picture.  If you ask me to remember six things, I probably won't. But if you ask me to come up with 16 different things, I can do that easily."
Mr. Hofstetter sold his company in November 2000 just as a new phenomenon called the Internet was gaining momentum. A merger with a large information technology company was a perfect fit for him and his creative team to offer their corporate clients' robust websites.
Several years later, Mr. Hofstetter's life took another turn. After making a mistake while completing a sign-in form at a business meeting, a woman jokingly asked Mr. Hofstetter if he was dyslexic.
"And I said, 'I believe I am,' " Mr. Hofstetter says, recalling the conversation as easily if it happened just a day ago.
She continued and noted that her son was hoping to attend a school in Richmond called Riverside School and could she give his name to its founder, Pat DeOrio?
Mr. Hofstetter agreed, thinking that was awfully nice, but that it was probably one of those have-a-nice-life moments. Luckily, Mrs. DeOrio had other ideas. She invited him to the school and after they talked, she asked Mr. Hofstetter if he would speak at Riverside's graduation ceremony. For Mr. Hofstetter, The Gift of Dyslexia turned out to be more than a book title.
"I called her back the next day and said, 'Yes, I'll do it,' " he says. "Then I started to write down my life up to that point. I call it 'the gift of dyslexia' because as I went back through thinking about my life, being dyslexic saved me more than once in Vietnam. It made me a very creative person and a good storyteller for my clients. Being dyslexic was a gift for me."
His talk at the school's version of commencement was loaded with inspirational stories.
"At the end as my wife and I were walking out, several students came over and patted me on the shoulder," Mr. Hofstetter remembers. "One young lady looked at me, she had a big smile on her face, and gave me the thumbs up. It wasn't just a casual thing.  She did it with conviction. I thought, 'Wow, maybe I have something that I can do here.' "
Not long after giving his speech, Mr. Hofstetter joined the Riverside staff in 2004. At the beginning of his tenure, he helped with fundraising for the current gymnasium, used his video expertise to compile a promotional video, and started closely working with Riverside's students on social and life skills.
His passion for the school was obvious from the start. He's now in his 14th year at Riverside.
"I have so much fun with the kids," Mr. Hofstetter says. He is affectionately known as 'Mr. Curtis' to most colleagues at Riverside today. "I once had a teacher say after she walked by the classroom that it sounded like a revival in there. I get attached to my students and when they leave I feel a loss, too."
Mr. Hofstetter's energy remains infectious to this day. He talks to kids about lessons that will last them well beyond their days at Riverside such as how to manage money, what it means to be a friend, and pointing out some of the defining characteristics that make a person a good citizen.
Mr. Hofstetter is a teacher, but has found there is always something new to learn, especially at Riverside.
"If I didn't have Riverside, I wouldn't be complete." he says. "Coming up with new ideas to teach social skills is work I enjoy. Some days I get wound up anticipating how my lesson will be received. Riverside is a special place. Just walk past any classroom or LF (Language Fundamentals) room and listen. The teachers are so engaged. It's inspiring."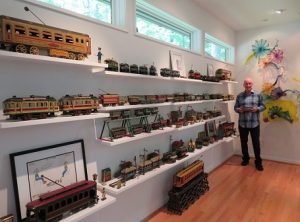 Off campus, Mr. Hofstetter rarely has an idle moment. That's because he is a collector of antique toys and has a special passion for and large assortment of trolleys. Collecting them fuels his sense of adventure and discovery. Collectors always say 'the fun is in the search,' and Mr. Hofstetter, in many ways, is the epitome of the phrase.
"A single trolley might only cost $100 or thousands of dollars, but the anticipation of finding something new, then putting it somewhere in my collection, making the right spot for it—that's exciting to me," Mr. Hofstetter says. He is a past president of the Antique Toy Collectors of America.
While his trolleys are carefully positioned, Mr. Hofstetter also has an assortment of cars that move. Really move. He saw his first 1933 Willys car when he was 18 years old and never forgot it. That interest spurred a passion. Today his gathering of sports cars and other automobiles run the gamut and would surely be the envy of the most ardent car enthusiast. Talk about an eclectic assortment: He has a modified 1971 Porsche 911, an original 1986 Porsche 911 Turbo, with 19,000 original miles on it, a modified Subaru WRX, and a modified BMW.
Family cars include a Saab 93 Aero and a Kia Soul. His latest pride and joy is a 1933 Gasser Nostalgia drag racing car. The Gasser took five years to complete and Mr. Hofstetter takes it to car shows in an enclosed trailer.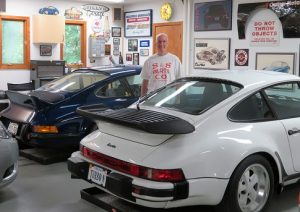 "I like all kinds of cars, especially race cars," Mr. Hofstetter says with a smile. "Pretty much … I like anything with an engine. My wife won't let me touch some or our cars, because when I do she claims they ride rough and are loud."
Mr. Hofstetter immediately laughs.
"She is right about that," he says.
As fate would have it, Mr. Hofstetter's life has been anything but an easy ride. On this Memorial Day and beyond, he hopes citizens take a moment to gain a greater appreciation for military members' selfless service.
"It's been 50 years since I've been a soldier, but there hasn't been a day that's gone by—it's not just a passing thought, an active thought—over men that died that I called my buddies I miss 'em still," says Mr. Hofstetter, a Purple Heart Medal recipient. "I've tried to live my life where I was not only being honorable to their service, to their character, but living a good, full life by remembering them. They couldn't raise their kids when they got home because they weren't coming home. They couldn't be a son or a husband again. They couldn't be a father. I won't let their memory pass."
Mr. Hofstetter is never at a loss when it comes to sharing a memorable story. Though it is often difficult to talk about some of his wartime experiences, he also wants to make sure that his fellow solders' service is never forgotten.
"Last August I attended a Virginia Train Collectors meet in Charlottesville. I had a few trains that I wanted to sell to other collectors," says Mr. Hofstetter, ambling into a gem of one of his hundreds, if not thousands, of stories. "Sitting on my table for a sale was a very nice English-made Hornby train set. I'd bought it more than 33 years ago at a London flea market. A fellow my age in a wheelchair approached my table and looked at it."
The gentlemen mentioned that he was also a collector of Hornby trains, but also knew that Mr. Hofstetter's item was in mint condition and likely too expensive for him to purchase. He rolled away.
"I sold a few items, but the Hornby train set remained for sale," Mr. Hofstetter continues. "As the meet was winding down and buyers and sellers were finishing their sales, the man in the wheelchair returned to my table and stared at my train."
This time, Mr. Hofstetter couldn't help but notice what was inscribed on the man's ball cap: Vietnam Veteran.
"Always happy to meet another veteran, I told him that I also served in Vietnam," Mr. Hofstetter says. "He explained to me that the reason for the wheelchair was that when he was an infantryman he was exposed to Agent Orange, the chemical defoliant they sprayed on the jungle from airplanes. This man sitting in a wheelchair right in front of me was a combat solider just like me."
So Mr. Hofstetter reached for the box that he used to transport the Hornby train to the meet in for safe storage and began carefully wrapping each piece.
"I put the steam locomotive, tender, and three passenger cars safely in the box and set it in his lap. I said to him, 'I want you to have my train.' " Mr. Hofstetter says. "I don't think he believed me so I said, 'We are combat brothers … we love and protect each other.' Without saying a word, he reached up with both arms and pulled me to him, hugging me hard. I fought back tears and so did he. In the world we both once lived, that is how we survived."