Come Check Out Riverside's New Parent Library
Tuesday, November 5th, 2019
NORTH CHESTERFIELD, Va. –– Recently introduced, Riverside has initiated a parent library in the school's entryway.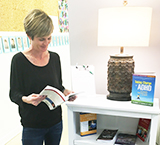 This area features a wide range of books, including a variety of insightful selections that provide interesting insights into dyslexia from some of the top experts in the field as we all look to glean more information about dyslexia and other language-based learning differences.
Parents and visitors, please feel welcome to pick up a book to read and remember to sign it out on the accompanying sheet on the table.
Please e-mail: [email protected] should you have any questions.
Thank you for your support of Riverside School!