'Direct Your Drive' Toward Brightening the Future of Riverside Students
Monday, September 14th, 2020
NORTH CHESTERFIELD, Va. –– Through Riverside School's support of the Richmond-based PGA TOUR Champions Dominion Energy Charity Classic Birdies Bonus Drive presented by TowneBank, you can make a gift to Riverside, Virginia's most trusted school for students with dyslexia in grades K-8.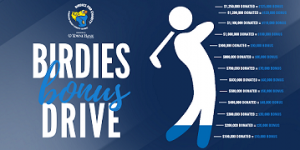 From now until Oct. 18, just click this link: (https://bit.ly/32vAv13) to make a donation to Riverside—and brighten the future of our school and its students.
Riverside School will receive your gift, plus an additional 10 percent. You will receive a receipt via e-mail from PGA Tour Charity for tax-deduction purposes.
Learn more and donate to Riverside School at: https://bit.ly/32vAv13.
ABOUT RIVERSIDE SCHOOL
Riverside School transforms the lives of students with dyslexia and similar language-based learning differences while supporting a community of highly trained teachers and staff who specialize in educating these students to their highest potential.