Financial Services Titan, Dyslexic Thomas Dorsey to Speak at Riverside's Moving-On Ceremony
Friday, May 18th, 2018
NORTH CHESTERFIELD, Va. –– Riverside School, Virginia's most trusted school for dyslexic students in grades kindergarten through eighth grade, has announced that entrepreneur and world-renowned financial services expert Thomas Dorsey will speak at the school's Moving-On ceremony on Thursday, June 7. The event will begin at 8:30 a.m. in the school's gymnasium.
The possessor of more than 40 years of experience in the financial services business, Mr. Dorsey, who is dyslexic, co-founded Dorsey, Wright & Associates in 1987. The company is a registered investment advisory firm based in Richmond.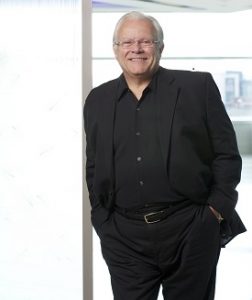 Riverside's Moving-On ceremony signals kids' departure from Riverside as they prepare to set off to a different public, private or specialty school. Empowering students with language-based learning differences so they can continue to flourish in a variety of ways is a mission that is at the center of the Riverside's purpose.
Mr. Dorsey, known for his rigorous, no-nonsense approach to evaluating investments, was diagnosed with dyslexia later in life (within the past 10-12 years) and spoke to Riverside students earlier this year during a morning assembly session.
"It is a tremendous honor for our school to welcome back the person of the caliber and expertise of Mr. Dorsey," said Hal Waller, Riverside's Head of School. "He always has inspiring stories and galvanizing messages that will provide a great exchange with students as they continue to grow and pursue their dreams."
Under Mr. Dorsey's leadership, Dorsey, Wright & Associates is now under Nasdaq and one of the largest providers of Smart Beta indexes with more than $56.8 billion in assets under management tracking Nasdaq Smart Beta indexes. All told, Dorsey, Wright & Associates continues to help market participants build and protect their clients' wealth.
Mr. Dorsey started as a stock broker with Merrill Lynch Pierce Fenner & Smith in 1974. He is the author of nine books, including Point & Figure Charting: The Essential Application for Forecasting and Tracking Market Prices, Thriving as a Broker in the 21st Century, and Tom Dorsey's Trading Tips: A Playbook for Stock Market Success. He has also been a frequent guest on financial-themed television shows such as "Cavuto on Business" and "Bulls & Bears" programs.
Mr. Dorsey's decorated career include numerous awards and honors, including the Citizens Community Award from Governor Charles Robb, Runner-up Ernst & Young Entrepreneur of the Year Award (1999), Runner-up Best Small Business of Richmond (2000), Alumni of the Year at, Virginia Commonwealth University (2000) and Star Alumni at VCU (2015). In 2017, he was recognized as a Market Technicians Association "Living Legend."
Mr. Dorsey's personal interests have also led to recognition as he is a Former Amateur Athletic Union World Record Holder in Power Lifting (50-55 age group) and the American Record Holder in Power Lifting (50-55 age group); All State Records in age group. He has completed the Adventurers "Rickshaw Run" from north to south India, is an avid pool player, and is a former Federal Aviation Administration licensed Hot Air Balloon Pilot.
ABOUT RIVERSIDE SCHOOL
An independent day school based in Richmond, Va., Riverside School's mission is to provide remediation of language skills for students with dyslexia and similar language-based learning differences in grades K-8, so that they can return to mainstream education fully prepared to realize their highest potential. Riverside's teaching approach is dedicated to providing small classes, individualized curriculum, one-on-one instruction, and a nurturing environment to enhance the learning experiences of children with dyslexia.