Riverside School Announces Campus Expansion
Thursday, August 23rd, 2018
Riverside School, Virginia's most trusted school for dyslexic students in kindergarten through eighth grade, has announced that its Board of Trustees has authorized the school to sign a lease with St. Michael's Church for its Ticer Hall property.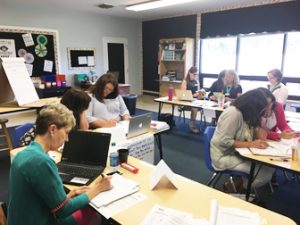 The space for expansion encompasses approximately 4,000 square feet. Riverside's current property occupies 9,325 square feet at 2110 McRae Road in North Chesterfield, Va. (Richmond area). St. Michael's is located at 2040 McRae Road in North Chesterfield.
The area will allow Riverside to increase its enrollment by 10 additional students from 72 to 80-plus children for the 2018-19 school year.
Two Intermediate School classes, encompassing more than 20 students, will be conducted in Ticer Hall during the next school year. The plot will also include access to an additional playground, playing field, and gymnasium. Further, it will allow teachers, students, faculty, and staff an additional building, as well as areas for use that the school has been seeking as a part of its strategic expansion plan.
"We think this move has a multitude of benefits, including enhancing the educational experience of students and creating a better future for Riverside," says Hal Waller, Riverside's Head of School. "We are most thankful to our Board of Trustees and the many individuals who helped to facilitate this process so Riverside can continue to grow and flourish in the near- and long-term."
All parties viewed the agreement as a win-win.
"Riverside has been the epitome of a 'good neighbor' through the years," says The Rev. Jeunée Godsey, Rector of St. Michael's Episcopal Church which adjoins Ticer Hall. "We're pleased that the space will continue to be going to good use and fits within the mission of both entities in helping to ensure a bright future for children."
Riverside has been renovating the space and grounds this summer to make them ready for use when the school year starts on Aug. 27, 2018.
ABOUT RIVERSIDE SCHOOL
Riverside School is Virginia's most trusted school for dyslexic students in kindergarten through eighth grade. An independent day school based in Richmond, Va., Riverside's mission is to provide remediation of language skills for students with dyslexia and similar language-based learning differences in grades K-8, so that they can return to mainstream education fully prepared to realize their highest potential.
Riverside provides a tailored curriculum and utilizes the Orton-Gillingham Approach to support the needs of students. With this in mind, Riverside's teaching approach is dedicated to providing small classes, individualized curriculum, one-on-one instruction, and a nurturing environment to enhance the learning experiences of children with dyslexia.