Riverside Student Waverly Adams Parrish Earns National Recognition for Art Submission
Thursday, June 18th, 2020
Chalk up the most recent academic year as one in which Waverly Adams Parrish was part-student and part-environmental advocate.
That's because the 12-year-old Parrish, a sixth-grader at Riverside School during the 2019-20 academic year, was busily raising environmental awareness and promoting stewardship of the planet through her artwork.
Using her enviable imagination and artistic know-how, Parrish entered a contest and subsequently designed and illustrated a creative nature park for tweens and teens. Laid out in the shape of a tree trunk with branches symbolizing landforms, greenery and water, Parrish dubbed the park 'The Community Tree.' Here, harmony and holistic practices rule.
With the incredible detail and inspiring descriptions that comprise her artwork, Parrish drew national acclaim. In late May, she learned that she earned first prize in Scholastic's national 'The (Really) Great Outdoors 2020' contest sponsored by the  TurfMutt Foundation.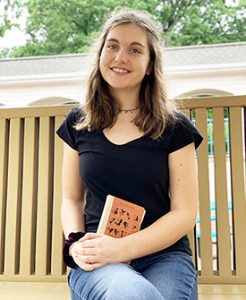 "When I found out, I just couldn't stop smiling," Parrish remembers.
For good reason. Parrish (pictured right holding her sketchbook) claimed first prize among more than 2,300 contest submissions. She also took home an award of $2,000. Her winning entry further earned Riverside Studio Arts teacher Christy Lantz and the school $500 each in additional prize money.
Please click here to view a sample of Waverly award-winning artwork >>
The annual contest is part of the TurfMutt environmental outreach and education program, which teaches students in grades K-8 to care for living landscapes and appreciate their benefits. Contest entrants in grades six to eight across the country were asked to design—by writing about and/or drawing—a nature space to benefit their community.
Parrish's submission traces its genesis to the last week of March when Lantz shared notice of the contest with all Riverside middle school students as an at-home art assignment. Lantz encouraged students to complete a design, though contest entry was optional.
Parrish dove headlong into the project, spending the first few days brainstorming ideas and crafting a detailed first draft in her pocket sketchbook. Limited by contest rules to three pages, Parrish decided to devote the first page as an overview of the entire park and divide the remaining two pages into six panels highlighting specific areas and providing the written narrative for her overall vision.
As Parrish finished the first sketch of the park's layout, she realized that it resembled the shape of a tree. Her early designs also included a large willow tree at the park's entrance. Willow trees hold nearly transcendent appeal for Parrish.
"I love that they are so graceful," Parrish says with a smile. "To me, the branches hang in ways that are welcoming and embracing."
Having emerged early in the design, these elemental tree components eventually inspired 'The Community Tree' title. In the meantime, Parrish continued to draw and paint a little each day using her draft sketches to guide her preliminary work on the final version.
On the following Friday evening, Parrish's mother, Katie, asked how the project was coming and reminded her daughter that the contest deadline was approaching. In fact, it was just days away on Monday, April 6.
"This Monday?," a nearly shocked child responded to her mother at the time.
Indeed, her mother affirmed.
"I was pretty close to hyperventilating for a few minutes," Waverly recalls.
Life had turned Waverly sideways. While formulating ideas for her drawings, she was also dealing with the adjustment to attending school from home via the comprehensive distance learning program that Riverside implemented in response to the COVID-19 pandemic. To say the least, other tasks had been on her radar.
Now, the calendar was moving quickly, and at this point Waverly had only completed about a quarter of the project.
No matter. Once she pushed through the initial surprise and slight panic, Waverly dug in and dedicated her entire weekend to finishing the most detailed and difficult remaining panels. She drew and painted all Friday evening and then for 11 to 12 hours each day on Saturday, Sunday and even Monday. Waverly worked on the entry in between her video conferenced classes and after the school day.
"It wasn't so bad," Waverly jokes. "I listened to a lot of audiobooks while I worked."
Waverly used watercolor paints to finish her meticulously detailed illustrations. At one point she even lifted the paint from one of the panels to rework it and to add new elements as additional inspiration hit her. Once the artwork was finalized, Waverly added title headings and typed descriptions to the 9×12 art tablet pages—measuring, sizing, editing and carefully resizing the typed text. She then cut and glued the written components into place.
Late in the evening on Monday, April 6, everything was complete. Per contest rules, stipulating that a teacher must make the submission on behalf of the student, Lantz. Waverly's art instructor at Riverside, e-mailed the contest entry to Scholastic.
Though Waverly showed some hesitation about entering the contest when she started, there was no doubting her decision as the project progressed. Waverly remembers her mindset.
"I've worked too hard for this not to go 'in,' " she recalls.
Lantz was giddy when news came of Waverly's win. The first to learn of her student's achievement, she couldn't move her fingers fast enough when typing an e-mail, first informing Katie before word was passed to Waverly and the rest of the family. Lantz also e-mailed a colleague at Riverside, the communication reading: 'This is a very big deal! Way to go Waverly and yay Riverside!!!!'
Waverly was filled with exhilaration, but ever humble, had to be certain that the news was true.
"You mean, I really won?' " she asked her mom upon hearing of the honor.
Waverly has a fan in Lantz, herself a gifted artist.
"Waverly is highly creative, acutely sensitive and uniquely persistent when it comes to creating art," Lantz says. "She has an infectious curiosity among her peers."
Truth be told, Waverly's art is admittedly an expression of herself. She first showed an interest in drawing when just 16 months old. While visiting her grandparent's beach home on a family trip, she canvassed a white sheet of paper with every color of the many crayons that had been laid on her high chair tray. So engulfed by the enjoyment and potential of her art, Waverly drew non-stop for more than 45 minutes, an uncharacteristic attention span for one so young.
Waverly's penchant for art flourished during the formative and influential time she spent enrolled at Richmond Waldorf School, attending that program for nine years from preschool through the elementary grades before coming to Riverside for the 2018-19 academic year. As an individual with dyslexia, art is one of the ways Waverly takes in, interprets and gains perspective about the world.
"I see shapes, lines and details very easily, and color is a big part of my life," Waverly says. "Watercolors help me express more of what I am feeling. And I've been encouraged to express myself and use stories to help me imagine things."
Waverly says her award-winning nature paintings represent an unfolding of the people, places, activities and ideals that she holds most dear. She demands of herself respect for natural surroundings, animals and Mother Earth. Likewise, through countless experiences across her childhood and through formative relationships with family and friends, Waverly has long been drawn to water, landscape, nature and gardening, as well as art, performance, music, dancing, singing and community celebrations.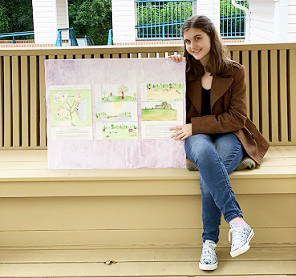 It's no accident that these elements of both nature and creative expression are major players in her contest entry. The watercolor panels include intricate depictions of a community garden, as well as a water activities area, a performance pavilion, a kid's farmer's market and a multipurpose education center. The pages also include detailed written descriptions of what each area is intended to achieve and represent from building community to fostering creativity to promoting environmental awareness and eco-friendly practices.
The paintings and accompanying narrative offer a window to Waverly's soul. Her design envisions a complementary world rooted in respect by its citizens and free of boundaries and discrimination. Once again, Waverly tapped into her life experiences to send a welcoming message through brushstrokes and color.
"I remember being left out of things when I was younger and how badly that made me feel," Waverly reflects.
Consistent with this theme of friendship and inclusiveness, Waverly conceptualized that the use of these parcels of property would be led by a commission of kids. Elected by their peers and working with the guidance and support of adults, Waverly imagines that these representatives would hold inclusive community meetings with other tweens and teens to plan an annual calendar of events for the park's spaces. Whenever appropriate, teens would also staff classes, events and services in the various areas of the park through paid and volunteer positions, allowing young people to further develop professional skills and leadership potential.
Waverly elaborates on the mission and purpose of this nature park for tweens and teens in the introductory section of her entry.
"The nature space would have an eco-education mission to provide positive experiences for youth in nature and help this generation and future generations learn about eco-friendly practices in an environment where they can have a fun time." Waverly writes, "My inspiration comes from my own life, including community, family and early school experiences."
A project that started as somewhat of a whim has deepened Waverly's self-confidence as she readies to tap into her imagination again, another piece of artwork awaiting.
Author Andrew Blair is communications and marketing coordinator at Riverside School.