Riverside's AOGPE Accredited Training Program Enjoys Landmark Year
Wednesday, August 7th, 2019
by Cynthia Davis
Fellow, AOGPE and Riverside's O-G Coordinator
On a number of levels, 2018-19 was a year of milestones and growth for Riverside's Association of Orton-Gillingham Practitioners and Educators (AOGPE) Accredited Training Program.
Riverside's AOGPE Training Program was awarded accreditation for seven more years by the Academy of Orton-Gillingham Practitioners and Educators thanks to the Academic Leadership Team's hard work on the lengthy re-accreditation application.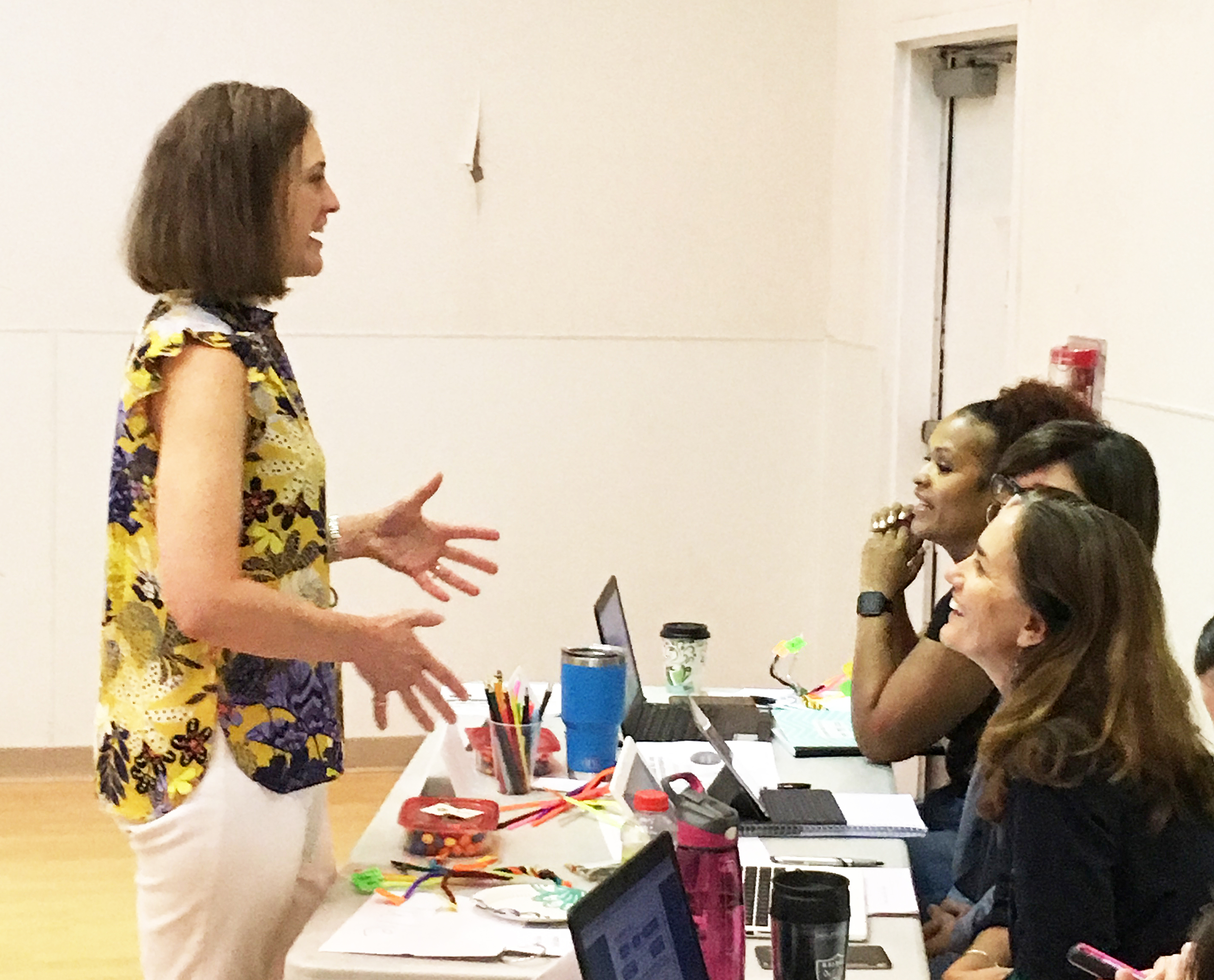 The Training Program Faculty expanded to include both Leda Spencer and Robin Hegner as Fellows-in-Training. (In the fall of 2019, a current Certified Language Fundamentals teacher is expected to become our third Fellow-in-Training. She will add supervision of an Associate Practicum to her LF duties.)
New AOGPE Subscriber Level coursework was added to the Training Program. In the fall and winter, Riverside parents, grandparents, and community members attended four two-hour 'Subscriber Sessions' aimed at giving them insight into the nature of dyslexia and the O-G Approach. Average attendance was 30, and 13 individuals attended all eight hours, making them eligible for Subscriber Level Membership in the Academy.
Six hours of new 'Certified Cohort' Training was developed to benefit LF teachers wanting to reach AOGPE 'Certified Level.' The cohort of five teachers gained understanding of and practice with the rigorous profile and annotated lesson plan expectations of Certified Level applicants.
The Training Program began to open some monthly LF Certified training to O-G instructors in the community. Six sessions were offered at a cost of $20. Average community attendance was 15, and the return rate was strong. Participants expressed gratefulness for this addition to our training program.
"I loved that I not only left with a deeper knowledge of the syllable pattern, but also got some great ideas for implementation and materials I could pull out to teach with immediately," noted one attendee. "It's always a pleasure to hear Cynthia's (Davis) presentations!"
The training year ended on a successful note with increased numbers in its Associate Level 60-hour 'Summer Course.'
"This course modeled perfectly how a classroom should look and run for students. I like that it was multisensory for us. I like that the homework was intentional and purposeful," said one participant. "The assigned readings provided us with appropriate background knowledge before the lecture. Cynthia (Davis) and Robin (Hegner) are so energetic, enthusiastic, passionate and knowledgeable about the course and the materials. It was phenomenal learning from them. Overall, this was one of the best workshops I've had the privilege to participate with. It was very well planned and executed.
Of the 27 who took the course (up from 23 last year), 24 (up from 20 last year) had the opportunity to benefit from the Applied Practice portion of the course, working under the supervision of experience Mentor Teachers to plan and implement O-G lessons with Riverside 'Model Students.'
"The applied practice does truly allow you to gain a perspective about what it is like every day for children with dyslexia," said a teacher who participated in the sessions. "Also, putting what you have learned into practice, under the expert guidance of the mentor teachers, is invaluable. We all love working with children, so to get the chance to learn alongside them is what I love the best."