Riverside's Student Newspaper Now Available
Wednesday, June 5th, 2019
Congratulations to Riverside School students on publishing the school's newspaper, 'Panther Pages, 'as well as to faculty adviser Cynthia Miller for helping to guide the project.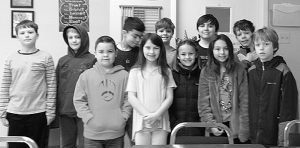 Riverside is grateful for the student-led Newspaper Club's dedication to completing this seminal publication during this school year. The group of students included editor Abe Waterman, as well as contributing editors Jacob Harper, Sadie Kidd, Joseph Koleszar, T. Lancaster, Spencer Loy, Kenley McManama, Mariana Ornelas, Stephen Romano, John Vukmer and William Wesley. Duties for members included serving as cartoonists, reporters, editors, proofreaders and printers, among their other duties.
As an illustration of their commitment to publishing 'Panther Pages,' the students and Ms. Miller met before the start of school days during the week as early as 7 a.m. to plan, compile and finalize the publication.
Riverside is appreciative beyond words for their commitment and couldn't be more proud of the finished product.
Click here to read Riverside's student newspaper, 'Panther Pages' >>