Teacher Spotlight: Ms. Myers' Dedication, Emphasis on Excellence Facilitates Students' Growth
Monday, May 7th, 2018
by Andrew Blair
Charice Myers' sense of calm, composure and organizational skills would make an air traffic controller envious.
A second and third grade teacher at Riverside, Ms. Myers humbly admits that, at least to the naked eye, not everything has its place. But take one step into her classroom and it is obvious that she is keenly aware of her plan and objectives for her students for the day and down the road.
Her sense of location and timing is part of what helps make Ms. Myers an effective teacher and Director of Curriculum, a post she's held in some formal title or another for the past 10 of her 16 years at Riverside.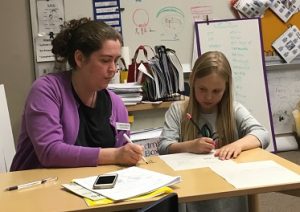 Ms. Myers' appreciates that each student at Riverside learns in a different manner. Thus, she is active in tailoring a roadmap in coordination with teachers, faculty and staff, that gives Riverside children the best chance to learn and ultimately overcome dyslexia.
She also embraces the Orton-Gillingham (O-G) Approach that is the cornerstone of Riverside's teaching philosophy. Admittedly, in Ms. Myers words, her satisfaction comes from "being able to meet individual needs and develop lessons that engage students."
This school year, students' coursework in her classes entail reading, writing, science and social studies. She also passes along lessons that students likely will carry with them for a lifetime; on the day we dropped in on her, she was teaching class members the appropriate way to open and close a thank-you letter.
All this means Ms. Myers' plate is plenty full, but her standards remain lofty. While understanding and supportive teachers like Ms. Myers help set Riverside apart, it would be nearly impossible to measure students' development without a culture of accountability. Ms. Myers high bar translates to her students who, not coincidentally, come to expect more of themselves. All told, she keeps students engrossed and interested in school each day.
"I like her class because we get to read a lot of interesting books," says Jaxson, a student in Ms. Myers' class.
Thanks to her diverse background, Ms. Myers seemingly has an innate ability to handle any number of different situations. In addition to teaching and helping students on a one-on-one basis, she is something of an all-everything at Riverside on the administrative side and anticipates issues before they become problems. All this is important because at Riverside, like most every school, there is no such thing as a 'typical day,' but one senses that her students' joy is Ms. Myers' joy.
It's no surprise to anyone that Ms. Myers willingly plays a number of roles at Riverside. She's also been an effective mentor to many fellow teachers and tutors.
"I am very fortunate to have Charice as my mentor. She has a wealth of knowledge about dyslexia, Riverside, O-G and curriculum," says Debbie Waldenmaier, a teacher at Riverside. "She is extremely supportive and nurturing. Charice is always willing to share her materials and lessons. I have learned a great deal from her these past few months."
Ms. Myers' approach is the antithesis of artificial. If she doesn't know the answer to a question, she has the awareness, sense and self-confidence to say, 'I don't know' without looking over her shoulder. It's a refreshing response.
Unquestionably one of the school's leaders, Ms. Myers was one of four Riverside faculty and staff members to attend last month's annual conference of the Academy of Orton-Gillingham Practitioners and Educators (AOGPE). There, they met with other O-G educators from around the world to share strategies for serving students with dyslexia and other language-based learning differences.
And over the past few weeks, she has been at the forefront of sharing Riverside's successes and growth as teachers representing the Virginia Association of Independent Schools and the Southern Association of Independent Schools visited Riverside.
Ms. Myers has seen a lot of change and transformation in her decade and a half plus tenure at Riverside, but the support, particularly among fellow teachers, has been a constant since she first stepped foot on campus.
"People are always willing to help each other out," Ms. Myers says.
A native of Colonial Heights, Ms. Myers says she always wanted to be a teacher. After graduating from UNC Greensboro, she taught in the North Carolina Public Schools before coming to Riverside.
Since, Ms. Myers' hard work, commitment to Riverside, dedication to learning all she could about dyslexia and interest in Language Fundamentals and the O-G Approach has facilitated her growth and students' progress.