Teacher Spotlight: Riverside's Ms. Miller Buoyed by Caretaker-Like Approach
Monday, February 5th, 2018
Riverside School's language fundamentals teacher Cynthia Miller admits that she sometimes isn't sure which task to tackle first in the morning, though there's hardly a doubt that she is likely playing a caretaker role for someone or something.
Teaching dyslexic kids in third through sixth grades at Riverside brings her tremendous fulfillment and occupies most of her time and considerable energies, a dynamic the kind-hearted Ms. Miller welcomes. She has been at Riverside for more than 11 years and loves the tailored, individualized and caring approach that is supportive of each student's progress.
After starting at Riverside as a language fundamentals teacher, she later moved into the classroom, teaching fourth and fifth graders. Ms. Miller now spends most days bettering the lives of children with one-on-one instruction through language fundamentals and using the Orton-Gillingham Approach to teach dyslexic kids basic reading, writing and spelling skills.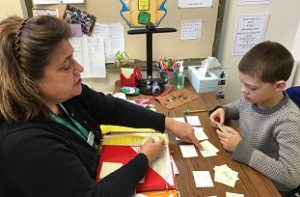 The students inspire her as does the Riverside community.
"I just love them. I love the way their minds work. I love their personalities," Ms. Miller says. "It's such a relational way of teaching and that's what attracts me. It's an energizing thing. I just love it here. I love the teachers. We have such an amazing group of people to work with."
Given her compassionate nature, Ms. Miller finds particular joy in facilitating a student's development. Some pick up on sounds, letters, words, spelling, grammar principles and handle comprehension, among other principles, more quickly than others. For those with dyslexia, the letters 'p,' 'q,' 'd' and 'b' are often confused and it requires repetition and practice for some children to overcome some sequencing issues. There is also an emphasis on writing in cursive at Riverside because of the type's consistent baseline and accompanying starting off point.
"I like Ms. Miller. She's nice," says William, a 9-year-old at Riverside. "If it wasn't for her, I wouldn't have learned things like cursive."
Ms. Miller appreciates that every child learns differently and aims for achievable progress in connection with students, who sometimes must memorize or assign a mental trigger to words in order to say, spell or read them.
Like snowflakes in winter, little items add up to a lot.
"Most of our kids, if they have a good sound-symbol relationship, they would spell 'was' 'w-u-z,' because that's what it sounds like, so we have a long list of what we call 'learned' words—you usually can't sound them out, you just to learn them," Ms. Miller says. "We use a lot of visual teaching and hands-on things to present information, which really builds the neuropathways in the brain."
Truth be told, Ms. Miller is a bit of an all-everything at Riverside, helping in many different capacities, including teaching during all five language fundamental periods, as well as assisting classroom teachers with morning duty once a week. She even helps with afternoon car pool five days a week to ensure students' safety.
"I am the bossy person at the end of the driveway," she says with a laugh.
A former nurse on the Oncology unit at St. Mary's Hospital, one of Ms. Miller's first touchpoints with dyslexia came via her nephew, Dennis. Trained to pick up learning cues, she noticed that in elementary school he often felt unsettled and uneasy about school. He was later diagnosed with dyslexia while in fifth grade.
Ms. Miller felt she had no other choice but to help her nephew overcome his severe learning disability. Soon thereafter, he enrolled at Riverside. Before long, school became fun for the first time in a long time. His learning aptitude increased and his self-esteem improved. Dennis returned to a mainstream educational environment, which is part of Riverside's goal—the school is for dyslexic kids in kindergarten through eighth grade. These days, Dennis is one of Riverside's many success stories as a Marine on active duty.
Always one to keep a busy schedule, Ms. Miller arrived at Riverside in the late 2000s while completing her master's degree in teaching at Virginia Commonwealth University. Truth be told, like the students at Riverside, she looks forward to coming to school each day. And Ms. Miller's enthusiasm for teaching and for Riverside are obvious.
"The strength of our program are our amazing, highly-trained teachers like Ms. Miller," says Hal Waller, Riverside's Head of School. "I've never been at a school that values teacher education more than Riverside."
Like her students, sounds have a profound impact on her. Away from Riverside, Ms. Miller has taught piano and serves as an organist at Emmanuel Episcopal Church in Richmond. The tone of her six mini-donkeys, three of whom she rescued, who live on her hobby farm at her home in Mechanicsville unfailingly bring Ms. Miller serenity in a sometimes non-stop world.
"My favorite sound in the world is to tuck them in at night and hear them crunching on their hay," Ms. Milller says. Their names are Emmett, Wade, Cash, Leroy, Lawson and Jim. "It's just peaceful. After the clutter and noise that seemingly occupies each day, it's nice to go out there and sit with them for a while."
All her experiences have combined to make Ms. Miller a Riverside-lifer.
"This is the only school I'll ever attend," she says with a smile.