Video: Award-Winning Writer Jonathan Mooney Shares Inspiring Message About His Battle With Dyslexia
Monday, August 6th, 2018
Jonathan Mooney is a dyslexic writer and activist who learned to read when he was 12-years-old. He since earned an honors degree in English Literature at Brown University and has written and published two books.
He recently shared a power-packed message that envelopes the powerful impact teachers had on his life and being unburdened by how others might view you. Please click here to watch his inspiring speech >>
The first, "Learning Outside The Lines" (now in its 14th printing) hit bookshelves when he was 23. Coupled with his most recent book, "The Short Bus," Jonathan has established himself as one of the foremost leaders in LD/ADHD, disabilities, and alternative education.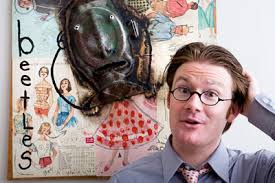 Jonathan also founded and is President of Project Eye-To-Eye, a mentoring and advocacy non-profit organization for students with learning differences. Project Eye-To-Eye currently has 20 chapters, in 13 states working with over 3,000 students, parents and educators nation wide.
Jonathan won the prestigious Truman Scholarship for graduate studies in disability studies and social change, and was a finalist for the Rhodes Scholarship.
In 2003, the LD Access Foundation recognized his work for students with disabilities with the Golden Advocacy award. Previous honorees include David Boies, Judith Rodin, former President of The University of Pennsylvania, and former New Jersey Governor Thomas H. Kean.
Jonathan is a highly sought-after speaker and has lectured in 43 states and three countries. He has lectured at: Harvard University's Graduate School of Education, Brown University, the University of Wisconsin School of Education, New York University Medical School's Grand Rounds, Teachers College Columbia University, the University of Pennsylvania, Vassar College and many other institutions of higher education.
Jonathan also has given keynote addresses at most major national education conferences and speaks frequently to students of all ages.
Jonathan has appeared in The New York Times, USA Today, NPR, ABC News, New York Magazine, The Washington Post, The Boston Globe and numerous other local and regional papers in the cities, states, and countries where Jonathan has traveled.